Tweet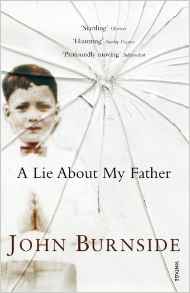 John Burnside is an admirably prolific writer. With his work spanning novels, short stories and well-received poetry collections, essays for various websites and collections, it is clear his enterprise is not defined by form. Rather, it is perhaps best defined as bravery, as the writer takes on as many forms as possible. This seems especially true as Burnside tackles his memoir, published in 2007. Traditionally, we can expect a memoir to be a composition of an author's memories that are understood to be factual. However, before we enter this memoir proper, Burnside is quick to characterise his own work:
This book is best treated as a work of fiction. If he were here to discuss it, my father would agree, I'm sure, that it's as true to say that I never had a father as it is to say that he never had a son.
Fiction is, of course, something invented, untrue: an exploration of the imagination. The nuances of this can be fleshed out eternally; yet for Burnside's purposes, the imagination is a crucial component of his world view. Invention holds more weight than fact.
The fact, as Burnside presents it, is that his father was a fantasist. An alcoholic gambler, amongst other things, whose constant stream of lies and violent outlashes had him ostracised not only by his son but by his entire family, not to mention the communities into which the Burnside family frequently moved in hopes of new beginnings. A Lie About My Father traces much of John Burnside's life from a young age, charting the tumultuous and often hideous relationship he had with his father. The young Burnside retreated into his imagination. In one of the more resonant occasion described early in the book, Burnside's father berates his eight year old son for simply being alive when his sister, Elizabeth, had died shortly after birth. As the young child is told this, a mythic tale is woven into his father's diatribe:
'Her name was Elizabeth.'
Once upon a time, there was a little Indian boy who lived by himself
in a cave in the mountains. He was all alone in the world, except for
his friend, the timber wolf –
'But do you know what?'
From a young age, Burnside reveals his tactics for avoiding – or at least distancing – himself (in as far as he can) from his father's spiteful moments. There is a constant sense of displacement; the young boy is never in the right place, he is rarely acknowledged nor does he feel at home anywhere; the older Burnside remarks, "For boys like us, all that remained was our own minds and what we could do with them." However, as the writer grows into an adult he too finds himself to be much like his father. This is a truth that his imagination will not overcome. The older John Burnside turns to binging on cocktails of substances with strangers and sometimes – admittedly out of his own perversions, in front of his family. Hopelessly, his father turns his back on him:
That last remark, however, said it all: it's up to you. It was what he said whenever he gave up and washed his hands of a problem. […] I hated him for it.
This passage is one of a number in this memoir that speak in direct and unvarnished terms and the impact is only heightened because of Burnside's tendency elsewhere to drift into loose and sensory language.
Those who are familiar with Burnside's writing will have much to gain here. Despite its discomforting and uneasy subjects, qualities perhaps not so very unusual for a memoir, Burnside's book is a worthwhile addition to his growing canon. There are moments that quite clearly inform his poetry – particularly chapters about imaginary brothers and cousins. Although not essential to understanding his poetry, A Lie About My Father adds another dimension to an already rich body of work.
Robert Middlemiss