Tweet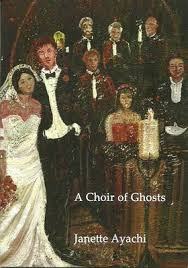 Janette Ayachi is a Scottish-Algerian poet; her work appears in many literary journals and anthologies. Her only previous independent release is a poetry pamphlet titled Pauses at Zebra Crossings. Some say, "Don't judge a book by its cover", but Ayachi's debut poetry collection, A Choir of Ghosts, comprising twenty-six poems, showcases a vintage-looking oil painting by Bridget Anne McNeill on the jacket, which captures the collection's themes of death, loneliness and loss perfectly. At first glance, that cover possesses a vaguely eerie quality; on further inspection, it is certainly unsettling. Figures with distorted and blurred faces are understood to represent Bride and Groom accompanied by their wedding guests. This painting may have once been as beautiful as the love of the newly-wed couple but is now corroded with time and age; in addition, the artist's handling of the shadows also means that some detail of the faces are obscured. The layering of the paints and glazes works in a very similar way to Ayachi's lines. This almost ekphrastic quality in Ayachi's work is strongly present in how her description of Lorenzo Bartolini's sculpture in "The Campbell Sisters" is textured:
The calciferous circles of marble like flesh
appear to wrinkle as it ages, chipping
and creasing into sallow swirls and varicose
veins of mineral impurities.
What is it about the cover that haunts? Perhaps an answer may be found in what is missing: distinguishing features and smiles. Like the end pages which are blank, the words are missing. This collection's focus is on aesthetics; in poems such as, "The Procuress", and "The Spell", which are inspired by paintings, this seems strangely fitting, as though these white pages are symbols of loss. Nothing lasts forever, including beauty and happiness. Ayachi's poems convey the message that love and relationships succumb to the same fate of decomposition as the painting on the cover.
Yet if this stops you opening the collection for fear that this will be a depressing read, let me quash this thought. Arguably, A Choir of Ghosts might be deemed an unhelpful, unsuccessful venture if its aim were to comfort the depressed, anxious and bereaved.  But it is not a self-help manual. An open-minded second reading is a must. Take time to appreciate the diction, the imagery and the messages; there is indeed potential catharsis. In "Hessian Lungs", Ayachi writes:
Unhinge the door to the next dimension[…]
where I can walk without my mouth agape
make decisions without the capsize of vertigo
answer questions without a front-line cough[.]
Although unnerving with its later comparison of the lungs "deflat[ing] like an old Hessian sack", which rather suggests that they have served their purpose and are of no more use, this poem vindicates itself as it denotes the relief that the terminally ill are gifted when they finally reach the end of their life.
A Choir of Ghosts evokes powerful emotion through its subject matter alone. Be engulfed by the negativity and resentment of "The Ceramic Cemetery":
In death, in memorial, in decay and in grief
there is always an unquenchable thirst for time,
we empty our bodies of moisture
and slowly start wilting from the inside[.]
Succumb to the squalor and melancholy of "Squatter's House (Besetztes Haus)":
Do they not inhale the stench of moss and mildew
carpeting hallways, webbing prey into the naked light
like the thorn pricked arteries of the briar rose,
do they not glimpse the ghosts of exes buried in closets
colourless and blistered like photographs sun-exposed.
Open your heart to the excruciating realities of loss:
I battled for your survival
and tried to keep you breathing.

I held your hand until it filled with helium
and almost took me with you.
Once the sharp and stinging emotional journey has been taken and you can distance yourself slightly, allow yourself to enjoy Ayachi's imagery, her words. The memory of the dead will stay with you.
Louise McGurty