Photographic Memories by Jeannie MacLean
Tweet
The Library is on the first floor of the House. It is a long, narrow room with a fireplace at either end, yet despite its odd shape it is both welcoming and intimate. It has comfy chairs, covered with faded chintzy flowers, and flattened, feather-filled cushions that are inviting to readers on damp afternoons. The back wall has no windows but is lined from end to end with mullioned glass fronted bookcases, made of pale pine. And there at one end of the room lies real treasure: the photograph albums. And since I've added to the family albums when I came to live here in the House, they have started to spill out of the bookshelves forming piles on the floor.  The albums have always been a source of wonder to me. I spent many hours as a child trying to piece together stories about my ancient relatives who inhabit the pages. Imagination is a powerful force. Our brains can just fill in the gaps between reality and what we don't really know, sometimes blurring, distorting or even preventing the truth.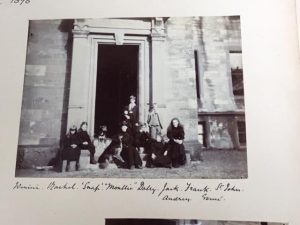 One photograph I looked at often was of a group of children sitting on the steps of a grand house. Their names were written neatly underneath the picture, and I studied them carefully, but had no knowledge of who they really were or how they were related to one another. Standing slightly aside from the other children was a younger boy, set apart, wearing a pale coloured suit. The name beneath was St John. 'St John?', I would wonder, looking at him. He had fair hair and an angelic face. 'Why was he a saint? Was that why he was dressed in pale clothes?' I decided he was in fact an angel. I also decided that he was standing slightly apart from the other children because they couldn't see him. I would return to that photograph sometimes just to check that St John was still there.
In the last ten years or so I have had the great delight of getting to know one of my cousins, whom I rarely saw as a child. Rob has become the genealogist of our family; he was keen to look at the album of the branch of the family he was researching. Late one evening, over a glass of wine, we explored the photographs. As Rob told me who was who and how they all fitted together, one by one my imagined stories became real people, and  I met them for the first time. I turned to the photograph of the children with St John, and for a moment wondered if Rob could see him too. I pointed to the beautiful boy in the pale suit, standing alone at the margin of the picture. I rubbed the tip of my index finger over the substance of him, gently, proprietorially, almost maternally. I felt a reluctance to allow his light to be dimmed by what Rob was telling me. His light had glimmered in my thoughts too long.
'Oh Sinjin' he correctly named him, 'that is a sad story. He was an only child, and like his cousins was sent away to school very young. His father was a diplomat.  St John was swimming in a pond in the school grounds with friends when one of the boys, who had swum away from the main group, got into difficulties. St John bravely tried to save him, but sadly both boys, caught in weed, drowned. I know the story well because my mother used it to warn my brother and me about the perils of swimming in rivers. Who the other drowned boy was history didn't relate.' Rob paused, 'I think this must be the only photograph of him,' he added quietly. I sat and stared at the boy with the angelic face, in his pale coloured suit. I wasn't wrong, he was both a saint and an angel. A life extinguished by a moment of bravery. A short life caught in that moment of a photograph. Can a photograph capture an aura? Was he destined to become an angel so young?
In a later album a photograph of a different boy disturbed me for other reasons. This boy was older and wore a fixed stare above a tight, starched, upright collar. He had dark hair, dark eyebrows, dark eyes and there was no hint of a smile. There was no name below the picture. Just three words: 'Shot at Harrow'.I would ponder this photograph and wonder at the circumstances which could have led to such an event. It unsettled me deeply, because in my own school career I would find myself in varying degrees of trouble with teachers and prefects on a regular basis. On receipt of some pointless punishment, I would comfort myself that whatever ghastly chores, exercises, or detentions they gave me to atone, and no matter how apparently angry they had become, they couldn't kill me without having to go to prison themselves. Looking at the photograph of the boy from Harrow, I felt less certain.
In the most recent photograph album my fascination was for photographs of my paternal grandparents. They didn't live long enough for me to meet them, but I could gaze at them and wonder about them. Photographs of my grandmother showed her with her dogs, or sitting on a tartan rug, enjoying picnics with her four children. My grandfather, on the other hand was always photographed alone. He sat in what I recognised as a bath chair. I was intrigued. 'Did he spend all of his time in this chair? Was he able to go to bed at night? How did he manage that?' He didn't look a particularly happy man, but I didn't find that surprising since he couldn't move around freely. 'And why was he alone?'
Once I reached my early teens I looked through the albums less frequently, but their images remained with me. One evening, watching a documentary film about Frederick Delius, I suddenly had an epiphany. Delius was a married man, but he apparently enjoyed the company of other women. He contracted syphilis in Paris, a disease which eventually killed him. The closing moments of the programme showed Delius being pushed up a hill by his friend and fellow composer Percy Grainger to see the sunrise ‒ in  a bath chair. So that was it. My grandfather had suffered from syphilis. I shared this information with my sister who did not question my source. Being older than me she better understood the implications of my discovery. My understanding of it was hazy, but I was satisfied that she was impressed.
A few years ago, my youngest daughter was diagnosed with a degenerative spinal condition after years of recurring back pain. While she was waiting for surgery to repair the damage, I began to ask questions on both sides of the family as to whether anyone else had suffered similarly. Then I remembered my grandfather in his bath chair. I rang my sister.
'Have you any idea what was wrong with our grandfather and why he was disabled?' I asked.
There was a silence, then she replied,
'But you know why.'
'No, I don't.'
'But you told me.'
'Sorry?'
'Syphilis, you told me he had syphilis.'
I went cold all over.
So many years had gone since I had had that thought and passed it on. 'No, he didn't,' I said quietly, realising for the first time the enormity of my imaginings. 'I made that up'. My adult self still burns with the guilt of having left my sister with the belief that our grandfather died of syphilis, with all its connotations, and the fact that she carried that knowledge as a truth ever since.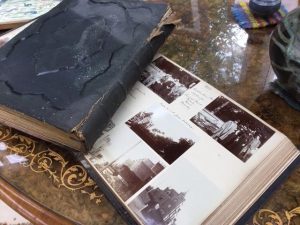 Thinking about these albums and remembering these moments where I had creatively filled in gaps in my knowledge takes me to a different, harder story of long-held self-created memory. We tell ourselves what we need to know to round off a story, to try to make sense of it. Sometimes we don't even notice we're doing it, and that's how these self-generated myths settle in the corners of our mind, put down roots, and become truth.
When I was eleven years old my father was killed in a car crash. My mother was called to the hospital by the police, late at night, and by the time she returned home in the morning he had died. A lorry had come round a corner on a single-track road, and to avoid hitting it our father had swerved his car out of its way and hit a tree. He was taken to hospital by ambulance but never regained consciousness.But was that enough to kill him? My mother took time to explain that my father had been thrown forward onto the steering wheel and this had crushed his chest. His head had hit the windscreen.
On the day of his funeral I looked at my father's coffin in the church and wondered what he looked like inside it. Would he still look anything like Dad? I cried for my loneliness, and I cried for my beautiful father.  The manner of his dying, the physical devastation ‒ those images look up residence in my mind. As an adult, having learned a little of empathy, I said to my aging mother one day, as we sifted through some family pictures, 'It must have been so hard for you, going to the hospital the night of Dad's accident and seeing him in such a mess.'
'What do you mean?' she asked. 'Well, all the blood, and seeing him so badly damaged, and his face a mess can't have been easy.'
She looked at me. 'But that was what was so strange. He just looked as though he was sleeping. He was perfect. He looked just as he always did, there weren't even any bruises. They told me all the damage was internal. I found it impossible to believe it had happened at all.' 'That's not at all what I imagined,' I said. We held one another's hands as we each tried to reorder and tidy our separate stories, and we shared again that sense of emptiness which was the truth for us both. Even as I am writing this, I know I am still adjusting the truth; skirting round the edges of it, making it sound as though there is resolution in our holding one another's hands. It might have seemed like a happy ending if I had left it there.
There is a photograph of my father in one of the glass bookcases in the library. Put there quite recently with a pile of other pictures tidied from a box when my sister and I cleared my mother's house. It is a photograph of him in full naval uniform. My mother took this picture to the local photographic studio where they altered it to show him with his hand resting against the shaft of his ceremonial sword. The sword wasn't in the original photograph, but my mother wanted it added to show his rank. The hand on the sword, created digitally by the photographer, is disproportionately large. I am left with the thought that even this picture contains a lie, an adjustment of the truth to complete the story, a filling in of a gap. A creation of an internal story from an external image that belies the trauma of his Navy experiences.
By the time I met my father his relationships with the people he loved were complicated by his relationship with alcohol. This relationship kept him at apparent arm's length, distant, and only available on his terms. If I look at photographs of him holding me as a baby there is no doubt in my mind that his pose is one of a loving father, but I recognise that distance in his eyes which stopped the easy flow of emotion.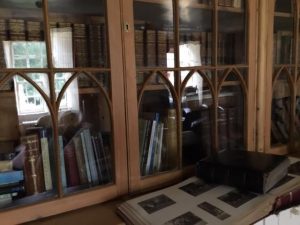 Yes, my mother adored him, as did my sister and brother, but if I am to be truthful I only caught glimpses of the kind, modest man I believed him to be. Unravelling the complications of all this can be done with detachment as an adult. I can view the situation with maturity and understanding. Sadly, my heart has never caught up. I only ever knew him and loved him as a child. I have no adult memory of him. My emotional responses are therefore those of a small person. That small person is not helped by the photograph in the bookcase which messes with the truth.
My adult self knows that this room, this Library, full of books gathered over lifetimes, occasionally ordered by someone with a tidy mind, warmed by the afternoon sun, a haven for contemplation, is the safest place for the photograph to remain. This room holds its stories gently.