WRITING PRACTICE AND STUDY 2019 SHOWCASE: The Snow Cycle by Sue Whisler
Tweet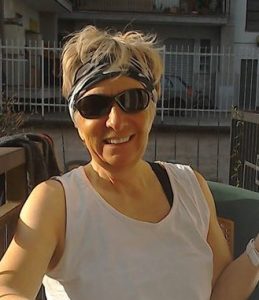 Sue Whisler is a writer of short fiction, memoir and poetry.  Much of her work is influenced by observations made throughout a career in social work, community development and advocacy. As a political activist and feminist, her special areas of interest are discrimination and prejudice; mental health and well-being; trauma; grief and social isolation and family dynamics.
Sue's curiosity lies in finding the extraordinary within the ordinary and presenting it in ways which will resonate with the experience of others.  She is passionate about the therapeutic and cathartic properties of writing and seeks to encourage others to write as an effective form of self- expression.  Engaging in the M.Litt. Writing Practice and Study course at Dundee University has brought opportunities to lead a flash fiction project at Glasgow Women's Library, and to facilitate writing workshops in different settings.
Sue has two grown-up sons and lives with her husband in rural Perthshire. She now spends the summer months working in Scotland's oldest distillery and the winter months working as a ski teacher in Italy and Spain. The Snow Cycle is her first novel.
Jen
On the morning of the day he doesn't come home, Duncan eats a breakfast of porridge, boiled egg and toast with marmalade. He drinks two cups of weak tea and fills his water bottle. He phones Rory and says he'll meet him at the end of the road. He tells Jen he'll walk Callum up to the farm where Sheila or Papa Tam will make sure he catches the school bus. He'll collect his bike from the barn and will be back around lunchtime. As he closes the cottage door, he shouts to Jen that he'll see her later and reminds her to leave the key in the pot.
On the morning of the day Duncan doesn't come home, Jen skips breakfast, replies to yesterday's e-mails, writes a shopping list and, as she closes the cottage door behind her, forgets to put the key in the pot. She will be many miles away when she remembers the key. She has been meaning to get another one cut and leave it permanently in the pot but hasn't got around to it. It doesn't matter too much – there is a spare key up at the farm.
Except that it matters to Duncan, who has never been able to comprehend Jen's busy brain; her jumbled thoughts amuse and irritate him in equal measure. He is different, with his cool presence of mind. Duncan never forgets to leave the key in the pot.
Jen is on her way to meet someone who is interested in offering her photography work. She is tight for time as she draws up in front of the cafe where they have arranged to meet. As she is parking the car, her phone rings. It's Rory.
'Jen, where are you just now?' His voice sounds strange.
'Aberfeldy. What's wrong? Where are you?'
'Near Tullybelton. Dunc's not well – he can't breathe properly. He's in the ambulance now. They're taking him to Perth.'
'What do you mean he can't breathe? Is it like an asthma attack? Tell them he doesn't have asthma. I haven't left the key for him to get into the house.'
'Jen, I don't think he'll need the key just now. I think you need to get to Perth
as quickly as possible. I'll sort the bikes out and meet you there as soon as I can. Jen – drive safely.'
'Oh my God. OK.'
Jen leaves a message on Sheila's phone, cancels her appointment, turns the car around and heads back south. She is trying to drive quickly but there is too much traffic. Every few miles there are road works and speed restrictions. She tries to swallow the tightness in her throat. She thinks of Rory's voice – high pitched and barely recognisable – and imagines Duncan struggling for breath. She is thinking ahead to the hospital: please let this be nothing serious; please let this be a wild goose chase; please let Dunc be sitting on a trolley with a stupid grin on his face.
And as she drives, she is making bargains: I promise I'll never forget to leave the key in the pot again, I promise I'll be better organised, I promise I'll make more time for the important things – I promise, I promise, I promise.
After today, Jen will not remember these bargains. She will not remember any details of her journey. She will not remember abandoning the car in the middle of a staff car park and running across the forecourt. Because once she enters the hospital building, she discovers that Duncan isn't coming home. Duncan is already dead.

Rory
Rory will remember everything about this day. He will remember the weather – bright and windless – perfect for a run round the Sma' Glen and Little Glenshee. He will remember the tiny white patches of snow still speckling the hills. He will remember stopping near the ford to drink from their water bottles and to refuel in the sunshine. He will remember swatting a wasp away from his half-eaten jam sandwich. He will remember the moment when Duncan swipes at his neck and shouts, 'Ooh ya boy! I've just been stung. That was fucking sore!'
He will remember them both heading for Dunkeld to look for a pharmacy. He will remember the exact spot on the road where Duncan says, "We'll have to stop now, mate – I don't feel so good.' He will remember calling 999 but will not recall exactly what he says to the call handler.
He will not forget the angry, mottled rash on Duncan's face and neck nor his swollen eyes and lips. He will not forget how violently Duncan scratches himself and then spews up at the side of the road. He will not forget trying to get Duncan to sit down when he says he feels dizzy nor Duncan throwing a punch at him. He will not forget the sight of Duncan collapsing on the grass verge, nor the rasping sound of his breath, nor the tone of his mumbled words which make no sense. He will never forget the moment when Duncan loses consciousness. He will remember putting him into the recovery position, which is all he can think to do. He will remember feeling Duncan's rapid, thready pulse. He will remember his relief when the ambulance draws up. He will remember every moment for months to come.
As Duncan is loaded into the ambulance, a silver Toyota pick-up appears. The driver parks up on the verge and comes across to see if he can help. He shouts to the two paramedics that he is a retired fire-fighter.
'Thanks, but we've got this covered,' the older paramedic shouts back. As he closes the doors he nods in Rory's direction, 'but this fella might need a bit of help.'
'Nae worries,' says the pick-up driver, giving him the thumbs up.
Rory is left standing in the Perthshire countryside on a sunny day in May with a total stranger, watching a blue flashing light disappear into the distance. The blue light is flashing because his best friend, Duncan, cannot breathe. Rory knows that Duncan stopped breathing a while ago.
'My name's Steve,' says the pick-up man. 'What happened to the other guy? Did he come off his bike?
No, thinks Rory, he is not THE OTHER GUY. His name is DUNCAN and he did NOT COME OFF HIS BIKE, YOU MORON. Rory wishes Steve would get back into his pick-up and go away.
'He was stung by a wasp,' says Rory. NOW FUCK OFF.
Steve sucks air through his teeth and shakes his head. He beckons to Rory to get off the road. At the sight of an approaching car, Rory shuffles off to where he and Duncan have left their bikes. He presses their water flasks back into the bottle cages. He thinks about Jen and knows he must get to the hospital soon. He's wondering what to do with Duncan's bike when Steve reappears.
'Look pal, I can tell you're a bit shaken up. Can I call someone for you or give you a lift somewhere?'
'Nah, it's ok, thanks,' says Rory but immediately reconsiders. "Actually, I could do with a lift back to my van with the bikes?'
'Of course', says Steve. 'Nae worries.'
NEXT TIME HE SAYS THAT I'M GONNA DECK HIM, thinks Rory as they load the bikes in the back of Steve's truck and close the tailgate.
__________
At the hospital, a young doctor puts her hand on Rory's shoulder. She praises his actions and reassures him that everything possible was done to save Duncan, but allergic reactions can sometimes be rapid and fatal. Duncan has been unlucky, she says.
Rory wants to know if Jen is there and asks to see her. The doctor asks him to wait a minute and disappears. When she returns, she takes him along a corridor where she knocks on one of the many doors and enters the room. Before the door closes behind her, Rory glimpses the blue uniform of a nurse against the magnolia of the walls and sees a box of tissues on top of a glass coffee table. From within the room, he can hear a low and rhythmic whimpering, like the sound of an injured dog. There are other voices, too. When the door opens again, the doctor steps out into the corridor with Tam.
'Rory, thanks for coming, son. We heard you did everything you could for…' Tam's voice trails off. 'What I mean is – we really appreciate what you did.'
'I didn't do much, Tam. I wish I could have done more. It all happened so quickly. Where's Jen?'
Tam tries to clear his throat, 'She's in with… She's got a nurse with her. I don't know how long they'll be. I think I'd better get back to Sheila now though, son. Thanks again for all you did.'
Rory shakes Tam's large, farmer's hand and says,
'Please let me know if there is anything I can do, Tam. Anything at all.'
'Aye – we'll do that, we'll certainly do that. You take care of yourself now, son.'
The door closes behind Tam and Rory is alone in the corridor. The young doctor is nowhere to be seen. After a while, Rory makes his way out to the car park, unlocks the van, curls his arms around the steering wheel and howls.

Callum
Monday
A police officer came to school today to talk about his job. I don't want to be in the police, I'd like to be a weather scientist or someone who studies avalanches. After school I went to Ross's house and we went on the rope swing over the burn behind his house. His Mum gave us a bottle of fizzy lemonade.
Tuesday
I am sad today because Dad died. He was stung by a wasp. Most people who are stung by wasps don't die but Dad died of shock. Dad's body is still at the hospital in Perth, but he can't feel anything because he's dead. When we climbed up Ben Vorlich, Dad told me not to be scared about dying because we are all made of carbon. The carbon inside us came from the stars billions of years ago. Dead people get recycled into the atmosphere and then their carbon gets made into other things. It's called the carbon cycle and it's like the water cycle which makes the snow. Nobody goes away for ever, we just become part of the recycling. I don't think Dad's carbon is getting recycled yet.
Wednesday
I didn't go to school today because of Dad dying. Instead I helped Papa Tam. He is making silage early because of the good weather so we went out on the tractor cutting grass in the top field. It was hot so we drank lots of water. Mum says I can go back to school tomorrow.
Thursday
School was weird. Miss Cameron gave me a long hug which wasn't very nice. At lunchtime everyone wanted to play with me, but I just wanted to be on the playing field with Jack and Ross. After school I had tea with Granny Sheila and Aunty Mags who has come from Bishop Brigs. She's not really my aunty. She's Dad's aunty. I like her a lot and she's very funny.
Friday
Jack and I played Jenga in Golden Time and Miss Cameron kept staring at us. Then we went outside and played rounders. Aunty Mags has brought her tin of found money with her. She finds it on the street, just pennies but sometimes pounds. She mostly gives the money to homeless people but tomorrow we're going to buy ice creams with it, and I can have a double waffle cone. I want one scoop of wild strawberry and one scoop of rocky road. Aunty Mags usually has raspberry sorbet but if they don't have it, she has amaretto. Found money is ace. Sometimes I look for it too, but I've only found 5p so far.