Tweet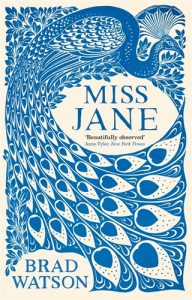 What is it about some novels that defies us forming a reaction to them? That when we try to muster up an opinion all memory of it simply dissolves…?
I have read Miss Jane with care. Brad Watson is much admired in America for his 'profound emotional depths'. There is nothing in his prose not to admire. He is a consummate stylist; he understands rhythm and lyricism, and the dense complexities of phrasing. But there is something I'm not getting. The flat tone, even more hollowed out than simple reportage, is as though a story put together as a series of notes taken.
The Miss Jane of the title is beautifully chosen to tell a wider story about the quiddities and quantities of  a small town, rural life. Context and setting have always informed Watson's work, and in this instance, basing his fiction on the life of his great Aunt Jane but selecting a cool register to create distance from memoir, and describing, as though writing non-fiction, a microcosm of backwater version of America where thinking is dulled by boredom, privation and an inability to imagine others.
Watson's narration favours a shortened, stopped syntax to match perfectly the limitations of such a setting, and that, along with the sound and texture of a report where there is to be no sign of emotion, unnecessary information leaked through, represents exactly an era when matters of the body, let alone the mind, were not matters to be spoken of at all. So Watson's prose effects a kind of dissociation from a woman who is close to the writer's own life and mind, but who is not rendered as though she has more connection to him than a flower or the weather. 'Then  she was indeed alone' he writes of Jane after her parents' death and her future is set as a kind of internment on their farm, 'She put in her garden. One day in July she stood beside the tomato row in a  mild state of wonder, watching a doomed tomato worm eat her best plant.'
Is the attention to style also the problem?  That so scrupulous is the author not to render his family history as a personal venture that he has given up the sense of passion for it, and let go, in the interests of pursuing serious fiction, the pull of necessity all good stories need, to be told? His prose inclines towards the poet's epiphanies and condensation of experience in his rendering of the world. Yet I am not taken in by what Miss Jane wants us to  read and see. The moments of a life—so deliberately called up—remain at the story's edge and not within its interior. And in a novel built up of moments with no great overarching drama or plot to keep it turning, the tiny things that happen in a life—like watching a worm at a plant—must be significant; they must accrue.
For quietness—well, that is a lovely feature for a novel to have—a story doesn't need to shout loud to be heard. But the problem is, I fear, that Watson's prose doesn't give enough in these moments of being that Virginia Woolf writes about. We end up being served summaries instead of a highly engraved, rendering of experience building to a fully rounded life. For all its hushed subject, the novel is never fully brought out in the open and only ends up speaking, rather crudely, (to my British ear, anyhow) of country folk and their easy, cowboy ways.
These are stories of silent desperation: Miss Jane's alcoholic father; an unhappy marriage; the protagonist, an old woman at ease with herself and her loneliness. But in the end there is something about all of these that don't… hold.  This tale of a woman who breathed and loved is flat as the paper upon which it is written. Watson's words may seem poetic, his prose his own…  But there is no Miss Jane in it. He has made no world for her in which we can take up residence so that she in turn can live.