"Dacha" by Dasha Shkurpela
Tweet
Somehow everything built in Russia looks as if it has been made  by hand.
(Ian Frazier, Travels in Siberia)  
If only. As if. What kind of hand?
Do you know anything about commonplace dachas, summerhouses of Russian ordinary citizens in that part of the world?
The dacha tradition goes back to Tsarist Russia, when it denoted land given by the state to its faithful servants. The word takes its root from the verb 'to give'. Dacha was a sign of official grace. Sometimes this act of benevolence came with expectations: the newly-minted favorites were to improve the surrounding area, build roads and produce attractive residences. Nevertheless, the dacha idea was about leisure, enjoyment and pleasure….
The Soviets destroyed the old world, but kept dacha. The bestowal principle was similar. Nomenklatura (those who held influential posts in government and industry), distinguished scientists, and loyal artists, benefited from the regime's grip. Common folk had a much harder time obtaining a dacha. Dachas were not built out of private caprice, but out of a privileged partnership between an individual and a higher power. An industrial enterprise (a plant or a factory) would be granted a piece of land from the state, which would then be divided into lots and doled out to comrades. This subinfeudation was called kooperativ (co-op)…. Every plant or factory was to take one of those institutions under its patronage – to incorporate them into the Union of Workers and Peasants. The representatives of non-proletarian professions were part of the classless society after all.
The higher-ranking administration, the senior staff and the stakhanovites (those who consistently over-achieved) were at the head of the queue. The original recipient of the lot was awarded the bare land. The dream became a reality. The celebrations were over. The family then started building….
Dachas did not have heat or running water. Instead, there would be a community well somewhere. The electricity was not always reliable. To water your lot you had to join the 'watering line'. One had to be inventive when building a dacha. Building materials were not available. Deficit ruled…. One could snatch some wood or bricks from the state building sites, pilfer hardware from a factory or a job site and 'arrange' getting some doors and windows from a state construction or demolition project. Imagine an inspector asking for receipts.
One could not pass the initiation into this cooperative without a compelling answer to the question: What will you do for the cooperative? One had to be useful in a tangible way.
The Soviet Union collapsed. The factories died. Perestroika gave way to privatization. Temporary possession transformed into ownership, the fence left untouched. Dachas became real estate and were bought and sold. The demographics of any given co-op changed. Dachas were bought by non-proletarians unable to have one before. Often improvements were made, but they were usually cosmetic. Major reconstructions were rare. Thus, the original architecture was left almost intact. As a result, traces of the lives of the initial occupants were preserved for the generations to come.
*
Come with me for a walk in one of the dacha communities, just outside Bishkek (former Frunze), Kyrgyzstan (in the former Soviet Union). These dachas –    the mostly self-built summerhouses of average Soviets – were (and still mostly are) hidden from view.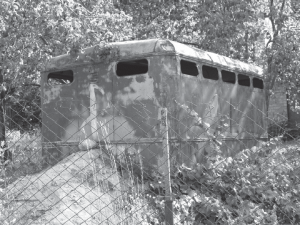 Railroad and transportation officials had the easiest time building – the passenger car would become a house while the freight car was utilized for a barn. A bus could also be turned into a barn. The wheels would be taken off, and the tires used for flower beds. The phone booth was quite common – a no-brainer outhouse. Another omnipresent item was an old cast-iron bathtub – almost every dacha had one, usually placed next to a gutter to collect rainwater (to be used for watering). Heavy, bulky, it was probably no less difficult to transport than a railroad car….
Look at the house that has a shed for the car, built from the Soviet-era towel dryers which, essentially, were a bent pipe…. It was not so much the ingenuity borne of scarcity, but the flight of a trapped imagination, that tore the covers off the life behind the walls. I will never forget a stucco building decorated with medallions – the round and oval tops of 10-inch diameter herring cans were set right into stucco. I have seen this house since: the medallions are gone (the owner must have changed), but the round and oval traces of the cans are still there.
If you see a regular house, built from standard construction materials, you can still deduce the original family member's career path: military. They could get anything. Nobody knows why, but a house like that was called 'prosecutor's dacha'. An acquaintance bought a house from a low-rank former military official. The house was modest, but the basement was full of gas masks….
Fences are really something. They are much more than a territory demarcation. On an individual level, they are an emblem of possession in a world stripped of private property (and full of stolen ones). Look at the fence built from small metal bed headboards – somebody was likely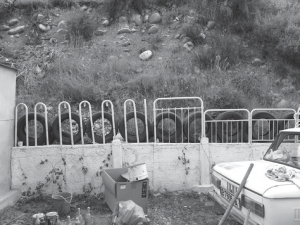 employed in a kindergarten.
A barricade assembled from the metal net bed springs, suggests a hospital or hotel as the workplace of some member of the family.
Pipes of various dimensions used in construction expose a plumber owner. Do not miss a fence made from wall-sized net partitions, each with a sign, 'Don't Climb, Danger', revealing its previous life as a high-voltage enclosure. From a distance, fences composed of the sheets from which agricultural parts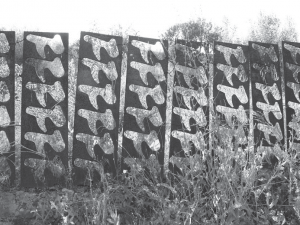 were pressed look like giant rusted stencils standing in the middle of a garden. Large fire extinguishers serve as columns.
But the classic and most common fence did not reveal the external life of an individual, but an unseen, unspoken, and to most, unimaginable dimension of collective existence: the barbed wire fence. Barbed wire was hard to obtain, but certainly possible. It was ubiquitous; as if a collective unconscious was manifesting itself in the midst of people's leisure, in their most private spaces and moments.
I am looking out the window of the apartment in the capital city where I was born and raised. The flower beds made from tires are painted a cheerful yellow and red. I wonder what else is passed down to the next generation, to my generation.
*
In their essay 'Mourning in the hollows of architecture and psychoanalysis' Maria McVarish, a practicing architect, and Julie Leavitt, an MD and a psychoanalyst, remarked:
A further complication of space, in the everyday sense in which we use this word, is the extent to which our bodies  are in it and of it, reflexively. We internalize the standards of everyday architectural space to such a degree that we rarely reflect on what its walls, windows, and roofs keep from us. Through lifetime of repeated movement, we incorporate the spatial conventions of environmental design down to their smallest and most detailed nuances: the feel, in one's feet and legs, of a stairway's standard proportion of rise to run; the sense of inside as distinct from out; a window's relationship with light, air, and view; the meaning and utility of a door, a floor, ceiling or wall.
What kind of consciousness plants geraniums into truck tires and puts airplane seats under a pear tree?
What kind of body can relax in those chairs?
What kind of pain blankets the dissonance of old tires and flowers?
What kind of numbness allows feeling at home in such unease?
What kind of touch does not sense the discord of debris and bloom?
Lying in a hammock in the orchard marked off by barbed wire, I cannot imagine….
In the film Architecture and Power, Ioan Augustin, Romanian scholar and practicing architect, describes totalitarian architecture as built ideology. Probably, dachas will never be thought of as architecture. Yet in a way these everyday spaces constitute a built ideology more than the glorious construction projects for which the ideology wanted to be remembered.
We are so habituated to each of these (and  myriad  of other) more-or-less standardized features of environmental design that, in the course of using and moving through  the built environment, any apperception of physical details remains largely unconscious. Indeed, standardized units and configurations of space are fundamentally integral to our corporeal schemata. We depend on them in our daily navigations of the human world.

– Maria McVarish, 'Mourning in the Hollows of Architecture and Psychoanalysis'  in Adrienne Harris, Susan Klebanoff and Margery Kalb eds., Ghosts in the Twenty-First Century: In the Consulting Room and Beyond
When we step out of our private spaces, what kind of world do we find?… I can no longer live my life in a double absence. The gap of my private silence. The void being created by the current official refusal to acknowledge, remember and commemorate. Living in a different country and free society I ask myself to what extent I still exist in the land of ever-present melancholy and fear of being seen. I can find my way in the personal space of my past and collective history, but the public lacunae fashioned by the state I can no longer accept. I write this so as not to be a part of the hollow of my generation and the next, and of those not yet born. I want truth and reconciliation so that the past does not confine our present and future.