Solar Bones (Longlisted for the Man Booker Prize 2017)
Tweet
Mike McCormack
(Canongate, 2016), pbk, £8.99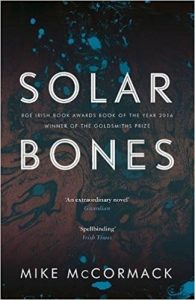 Mike McCormack's new novel comes much garlanded, having won both the BGE Irish Book of the year and the Goldsmith Prize for Literature in 2016, as well as earning a place on the Man Booker Prize longlist. Canongate's website informs us that Solar Bones is a novel "narrated in a single sentence" while The Guardian observes that McCormack writing is in the same mould of  Irish experimental fiction as authors such as James Joyce, Samuel Beckett, Flan O'Brien, and that it sits happily alongside the Joycean inspired Eimer McBridge's A girl is a half-formed thing. Uncharacteristic of his earlier "forensically chiselled" creations, McCormick has written of his desire to stay faithful to the "something messy and slobbery" that is life, and to echo "the spirit of recklessness and generosity" in Beckett's and Joyce's work. On opening the book I see that punctuation is used sparingly, and that paragraphing and lineation are used somewhat inventively. On further reading, I also realise that the novel is also no respecter of chronological clock time. All of these pique curiosity, trepidation and a little alarm on my part.
The tolling of the Angelus bell, a call to devotion, inaugurates Solar Bones; as the bell rings, individuals, living and dead matter, times and places are all connected in one fell allusive swoop,
drawing up the world again
mountains, rivers and lakes
acres, roods and perches
animal, mineral and vegetable
covenant, cross and crown…
Much like Gabriel's epiphany in James Joyce's short story, "The Dead",  Marcus Conway, the novel's protagonist, hears the bell and feels located in "the given world with/all of its history", remembers incidents, snatches of conversations and memories of his past, and reflects on  relationships with family and friends. Moving about in his kitchen, Conway's stream of consciousness wanders associatively – "a skein of connections", unspooling as words lead to previous lives and memories, all of which hang on the word-threads that trigger assorted memories  – from the quiet, tender quotidian everyday to moments full of heartache: an infidelity, his wife's illness, his daughter's first solo exhibition, his son's skype sessions, his skirmishes with council officials and politicians, his father's rage and grief after his mother's death. While the rhythm and cadence of Conway's free associations returns readers to the paratactical, associative meanders of everyday thought (or speech), each incident remembered is full of emotional portent.
In the novel's somewhat garrulous narration, we see fiction-making as a kind of performative act that makes life real and vivid from the saying (and by extension, thinking and writing) of words. An ironic, wry anecdote about an autistic planner who puts together maps of an imaginary city in all its infinite sprawl, layers and complexities provides a double for the writer: a "clueless overload, a mad king" who "was nevertheless on such intimate terms with the infinite intricacies of his own mind that he needed nothing more than a rule and pencil to draw them forth and lay them on the paper". Needless to say, in the novel's light-hearted banter, the writer is a kind of planner-engineer, as is God, the original word made flesh.
In Conway's narration, the multitude of pasts are gathered up in one long skein. Near the start, the "why?" hasn't concretely materialised, but in little judicious slips, we also observe a "gnawing unease", the nagging conviction that something is out of kilter. These proleptic, discordant notes become more sustained, turning into "dread" as the novel builds to its climax. In the closing pages, in a sudden moment of epiphany, I think we see the full beauty of novel's gears and pinions, whirring and turning, when we arrive, to quote TS Eliot, "where we started /And know the place for the first time." While complexity of modernism or the gravity of philosophical ideas should never be off-putting, this is also a lovely, tender and fulfilling surprise of a novel. A pity then that it did not make it to the Man Booker shortlist.
Gail Low