Golden Hill (Shortlisted, 2016 Costa First Novel Award)
Tweet
Francis Spufford
(Faber & Faber, 2016); hbk, £16.99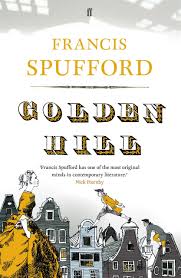 A young stranger arrives at a counting-house in eighteenth century New York wishing to redeem an order for a thousand pounds. He is met with suspicion and scorn, and he soon finds himself involved in a series of bizarre mishaps. In Golden Hill, Francis Spufford takes us on a journey through the eyes of Richard Smith, a young Englishman of mixed heritage whose ancestry proves, in the end, to be significant. Smith has been given a mission, but we have no clue of what that mission is, until the surprising conclusion when all is revealed. Up until that point Smith remains a mystery, and a highly entertaining one. We are never quite sure of Smith's intentions – are they good or bad? Despite this, we can't help but sympathise with him. Along the way, Smith falls in love, but typically, things don't quite work out in the way he expects.
The setting is New York city in its infancy when the population was but only a hundredth that of London's. Spufford's knowledge of history and historical texts is evident; the novel is written in the rich, poetic language typical of the time, and Spufford is a master at transporting us back to that time and place. Immersed in the sights, sounds and smells of eighteenth century New York when it was a brand new melting pot of different nationalities, we can almost hear the babble of different dialects. Spufford masterfully conveys the characters through their idiosyncrasies of speech. In a long letter to his father from his prison cell, our hero Smith writes in the rich vernacular of the eighteenth century with all the nouns in initial capitals. In the letter, Smith quotes the words of his unsavoury cellmate, "The Capting", who refers to Smith as his "Brother in Adwersity [sic]." When Smith tells him he is not his brother, the cellmate says indignantly:
"Ain't You? […] Well, that's a Relief, then, a powerful strong Relief to my poor Sensibilities, ain't It, for who'd be a Brother to a prim Prick-Drip like You? Who'd own You, you Milk-for-Spunk? You Pox-Ooze. You Flux-Breath. You Cockless Pretender. You walking Hole. You Piss-Puddle. You –"
Golden Hill offers an embryonic New York in all its eighteenth century splendour. When Smith presents his bill for a thousand pounds at Lovell & Company counting house, he is amazed at the number of different currencies in circulation.
Lovell opened a box […] and dredged up silver […] which he built into a little stack in front of Smith. "A Mexican dollar, which we pass at eight-and-fourpence. […] A couple of Portugee cruzeiros, three shillings New-York. A quarter-guilder. Two kreutzers, Lemberg. One Kreutzer, Danish. Five sous. And a Moresco piece we can't read, but it weighs at fourteen pennyweight, sterling, so we'll call it two and six, New-York." […] The pile grew. "Fourpence Connecticut, eightpence Rhode Island," […] "Two shilling Rhode Island, eighteenpence Jersey, one shilling Jersey, eighteenpence Philadelphia, one shilling Maryland …" […]
Francis Spufford has been likened to Henry Fielding, with all his political satire, and Golden Hill has been described as Spufford's version of Tom Jones. It is easy to imagine the central figures in Golden Hill as jolly, port-swilling, bewigged caricatures with red bulbous noses and round waistcoated bellies!
This is Francis Spufford's first novel. It is humorous, entertaining, bizarre, original, bawdy, shocking and unconventional, with many twists and turns.
Joanne Morley-Hill