All That Man Is (Shortlisted for the 2016 Man Booker Prize)
Tweet
David Szalany
(Jonathan Cape, 2016); hbk, £9.99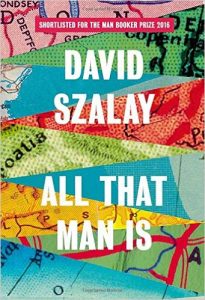 David Szalany's Man Booker shortlisted All that Man Is contains nine tales of men transiting in  contemporary Europe, each one presenting a different view of masculinity. The overwhelming mood of the novel is bleak. Life is accompanied by a sense of loss, of time passing and opportunities missed.
In the first tale seventeen-year-old Simon, interrailing through Europe with his friend, insists on visiting the graves of musicians in gloomy churches that he invariably describes as "underwhelming ." In Prague, he spurns a casual sexual adventure. He most wants to be is Didcot, where the girl who smiled at him last year lives. He fails to sleep on overcrowded trains and survives on beer, fast food and spliffs. His extreme fatigue produces an almost hallucinatory, hyper-aware state that Szalany describes precisely. In an apartment in suburban Prague "everything seems unusually vivid- the sun flooded kitchen, the pictures of kittens on the wall, the blue eyes of the footballer's wife, her fine, parchment like skin."
Sex is central to this tale and to others. Throughout, the women remain something of a mystery. The men are besotted with them, both desiring and fearing them. The women are described beautifully; their dialogue realistic. They are not victims but they do remain on the fringes of the narrative. The men are, for the most part, bewildered by them. There seem to be no equal relationships here, no real openness between husband and wife, between lovers. There is also a general lack of diversity. The men are white and, for the most part, well educated. This is pre-Brexit Europe and the threat of terrorism and the refugee crisis are airbrushed out. Despite the different countries that feature and the wide age range of the protagonists, the view given is a narrow one, the men's lives hemmed in by introspection.
Szalany's language is economical and graceful and place is beautifully and sparely described. Specific moments are given value and weight and each sense is described. From the "two grand windows' in the exiled Murray's flat in Croatia, 'the flapping grey scene outside seems disconnected from the tepid silence of the interior. It seems weird, histrionic. Rain comes at the windowpanes like handfuls of pebbles." In Switzerland, a small alpine town is viewed by a property developer for its potential to make money. "Cluses", he says, is "prosaic, a series of small roundabouts. Flower baskets hanging from street lights. Midget plane trees brutally pollarded". This brusque description perfectly expresses his disdain for the place.
The Russian oligarch whose fortune has disappeared and who contemplates suicide over several long pages is close to cliché. Balazs, bodyguard to a prostitute and a pimp, is a romantic and too naive for someone with his life experience. In a hotel bedroom where a sexual encounter has gone wrong, Balazs describes the bed linen as looking like "whipped egg whites." It's a clever simile but not one this man would make and a rare false note from Szalany's usually poised and accurate voices.
The first and last stories are the closest to Szalany's own life experience, descriptions of middle class lives tested by the travails of travel and the sense of loss that accompanies a self-imposed exile. They ring true. In the bookend to the very first piece, Simon's grandfather, Tony, is recovering from heart surgery and contemplating death. The "strangeness" he feels is, "he thinks … to do with the fact that the only world he knows is the one he perceives himself- and that world will die with him." He sees an inscription in a monastery that reads: "Let us love what is eternal and not what is transient".  Tony clings to this and begins to finds some peace.There is a very welcome glimmer of warmth in this final piece, where familial love and concern provide Tony with a purpose and give his life meaning.
Sarah Isaac