Tweet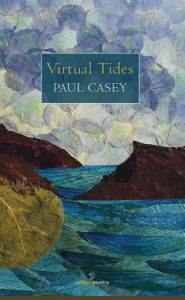 This collection is prefaced by a Wallace Stevens quotation "unreal things have a reality of their own" and in Paul Casey's poetry, to paraphrase the completion of that quote, as elsewhere, we have realities taking shape out of what can be perceived as the very unreal.
We allow those deep realities to form from concepts that seem intangible to the reader at first pass, but then, within the pause that seems to inevitably follow the reading of most of the pieces contained therein, they coalesce.
Subsequently you may read back and see the purpose and the meaning that Casey was trying to convey, in addition to the meaning you wish to give – with the poet as your guide – because what is poetry without the imagination of the audience, of you?
Virtual Tides is the latest collection from Paul Casey and his third overall. He has been published in journals and anthologies worldwide in countries as diverse as his native Ireland and South Africa. The collection brings together poetry dating from 2013 to 2016 published originally in journals as diverse in subject matter as is the aforementioned geography of publication.
Whilst mostly staying with stanza forms Casey does foray into prose poetry and also, more occasionally, to the completely free verse where he indulges his more whimsical side. This was especially evident with the alluring "Water Signs" which leads you, quite literally, along a  diving board made of words, quite unawares, before leaping off the edge into the pool, also of words. In such instances, and you cannot help but delight in finding that Casey has entrapped you in that whimsy.
Whatever form the poet adopts, the now alert reader will become aware of a sense of literary cubism, confronted as we are with a many faceted examination of modern living, technology and the attendant remoteness and distance that seems to occur as a resulting symptom. "For Pointing at the Sun" illustrates this beautifully with its cityscape and its inhabitants viewed through this alternative lens.  The poet then involves us with an attempt to show how we could, and should, reconnect to the natural, the spiritual and the ancient. He asserts how the natural especially does already have a connection to modern life. This is illustrated "Inside the Bonsai" where Casey invites us to merge with him within the Bonsai tree and in the act of pruning we resolve feelings and get rid of unnecessary cares. "Clipping around and around us precisely/ You whisper to me".
What particularly struck a sonorous chord in me is the sense, at times very obvious within Casey's writing, of the relentless march of technology whether it be a beneficial thing or not. "Virtual Companion" offers this starkly with "this android I married./ this heart that is not a phone" before examining how electronic devices are being relied upon mindlessly in society.
Casey is not averse to the straightforward rhyme and, on one occasion, the alliteration that literally goes on alliterating for what seems like forever in "Bar Beings". These obvious devices lull the reader into a false sense of security about his far from obvious subject-matter. Casey is also unafraid of the interspersing of material that delights in what can be described I feel best as ridiculousness, an example being "Matchbox", a concrete poem where visually the text becomes ever more compressed.
What we complete in an all too brief fifty five pages is a detailed study of the concerns of the poet.  From the perception of his roots in ancient Ireland to his railing against technology and the effect it is having upon us spiritually and socially. Virtual Tides is however designed to enable you to free your mind and imagine, and therein lies this poet's greatest gift.
Matt Richardson