Tweet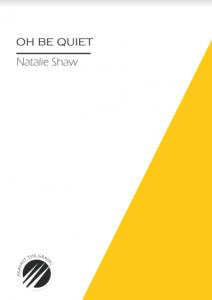 My sharp little knife
Black blooms oxidised on the blade
Iron tang singing on my tongue
Slitting through skin to spilled insides
('Anaemia')
That uncompromising, but ambiguous, title primes the reader perfectly for Natalie Shaw's debut collection. Here, I have to make a disclosure that I have met some of these poems already, sometimes at an early stage, through shared online crit groups, the 52 forum, and journals. They were sharp, highly original and often witty at first encounter, and they are no less incisive in this sequence.
Incisive seems right. Shaw never wastes a word in her frequently terse but strangely spacious verse. Neil Astley described her as having 'a vividly anarchic imagination' whilst Lucy Tunstall sees that 'these short, spare poems are little acts of resistance and rectification.'  Very true. That 'resistance and rectification' builds on and remembers childhood, but also fastens on uneasy futures. In short poems, titles have to earn their place, and the poet does not disappoint, building for example the hard working 'Things that I say to my enemy', and the immediate, shocking slap of 'How to tell your son he has no friends'.
By way of introduction, the pamphlet kicks off strongly with 'I know you only invited me in for a coffee, but', outlining the kind of revenge that many a sidelined mother must dream of after the wrong kind of suburban playgroup:
I ate your 4×4 too
Even though I cannot drive [.]
There is a thread in many of these poems which pulls close to the danger of the usually unutterable curse:
I'm concerned she's not sleeping, but mostly I shiver
to think of her lying awake and alone. I whisper
it's true that she'll never have boyfriends, a wedding, or babies
with soft little hands, her milk in their soft little mouths.
('Things that I say to my enemy')
If there is something of Blake and his 'Poison Tree' shivering through some of these poems, in essence, this is generally a delightful wickedness and it's set amongst poems of great empathy, delicacy and vulnerability.
The third tray

The children got bigger. They lost the elephants

in the carpet, built Weetabix houses for ants,
they sat on the crocodile that lived in the kitchen.
('Printer's Tray')
There's that strong understanding of the icons and that innocence, which is not innocence in childhood, and not unlike what Vicki Feaver explores in her most recent collection; yet there's enough to seem endearing from an adult stance centred as they are on the real fist-clench of childhood. Whilst the poet writes of well-known myths and fairy tales, she is similarly adept in finding the fable in her own home.
Nor is Shaw afraid to turn that laser directly on herself, and the particularly female journey of ageing, whether observing when 'our shrivelled clothes unpeel about us' ('In the changing room we see') and how 'each term they grow more difficult to touch' ('Girls'). Touch itself is given considerable agency, for example in the disturbing 'I have been to hell and back'. Equally, there is the aching potency of not quite touching (think of Tóibín's achievement in The Master, or indeed Michelangelo's most famous gap) as a recurrent theme. Consider its use in the adroit repetition employed in 'Like when we went to the cinema that time', and how very differently it occurs in the taut metaphor found in 'Hospital visit with talisman'.
This is a quirky, assured first pamphlet, which for all its ability to cut, offers many moments of release, hope and calmed expectation. Who knew that the Rossetti-titled 'The heart knoweth its own bitterness', the final poem here, could finish on the optimism of 'And I do and I do and I do'?
Oh be quiet. I have no reason to assume that Natalie Shaw will take her own instruction here. Thankfully.