Tweet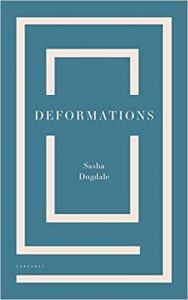 Did I say I was never a victim?
[…]
I helped him with good grace
and inside I knew every complication
I learned to lie and it was barefaced
on my lies they built a civilisation
('Odysseus welcomed from the sea by Nausicaa')
Poet, and significantly translator, Sasha Dugdale's fourth collection, Deformations, takes two important, and apparently diverse series, which are linked and book-ended by less overtly connected poems. Reading as the poet has ordered makes an intriguing journey, but some of the real bonding is to be found in the overlapping of the poems traversing the two major sections. They suggest a great deal of how Dugdale has not only uncovered aspects of the central characters but also the nature of attempting to shed their influences. In 'Eternal Feminine', she says of the Downs (and much more) 'Their backs wear thin like wedding velvet/worn at a funeral[.].' Deformations' cover describes the 'preoccupation with biographical and mythical narrative' and 'how trauma is disguised and deformed through myth and art.'
That trauma is perhaps familiar in the second sequence 'Pitysad', which takes 'simultaneously occurring fragments […] from Homer's Odyssey' into contemporary settings. The Odyssey has, after all, been subjected to many re-workings, from Classical times on, via Joyce's Ulysses to Wenders' Paris, Texas and beyond.
 The preceding, more controversial series 'Welfare Handbook' focuses on sculptor-typographer- illustrator and 'cultural figure' Eric Gill. Those familiar with his life will be aware of the territory. Those unfamiliar would be well-advised to research his art and biography a little; they are nigh essential to the reading of these poems. Dugdale does not justify Gill's actions or reasons, but she does underscore how his life and creativity fuse, and that is inherently difficult. Perhaps the typographical poem 'One X for Mary and XX for May' has much to say about a revealing chiselling away, both of stone, and not.
The list poem 'an experiment' draws strongly on the artist's shockingly candid journal, just as an earlier untitled 12 line poem finishes on the very-Gill instruction 'Measure member.' Like Byron, Gill documented his own history as a sexual abuser. Unlike the poet, his writings suggest that he believed his abuse (here of his two elder daughters) to be intrinsic to his artistic practice and devout faith. Dugdale is clear that the poems are not in Gill's voice (nor in those of his daughters), but 'the voice of water which is good for recording disaster' ('Notes'). Wise. I first read Gill's testimony decades ago; it remains problematic. His eldest daughter, whilst acknowledging the abuse, always refused to identify as a victim. Many will describe her trauma as internalised, but in terms of this collection it is for the individual reader to find answers in the poet's words and unwritten spaces. Penelope-like, that daughter also became a very successful weaver. Quoted in the sequence's concluding poem, David Jones' obituary of Gill: 'Because history only travels in one direction'.
Arguably, more links the resourceful Penelope to the abused teenager than may be apparent or comfortable initially. We leave Gill 'dragging the long shaft of his cross' and 'where masculinity is exhausted.' (untitled). There, and throughout the collection, there are strong metaphors not only in that voiced water but in shorelines, and other liminal, translatable areas.
Frequently, that second section, 'Pitysad', looks directly at Penelope, 'silently, as she sucked a mint imperial', and there are other echoes, in addition to Gill's circle and works. Lady Macbeth creeps in, as the titular hero finds 'one looked at me like my own daughter[…] as I brought down the axe// and all the wine in Ithaca won't wipe out that stare' (untitled). Holofernes is also near.
The final poem 'The Fall of the Rebel Angels' is a stirring envoi, especially the closing tercet:
forgive us our lack
of dreams, we have forgotten
how to rebel.
Sasha Dugdale's opening dedication reads 'for the insignificant'.