Tweet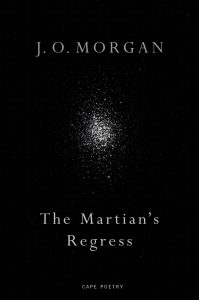 This collection of 44 Science Fiction poems is a departure from Scots poet J O Morgan's usual style. His 6 previous poetry publications have been single, book-length poems. Assurances, published in 2018, won the Costa Poetry Award and his previous collections have been nominated for major awards. His poetry tends towards physics and metaphysics;  its language engages with scientific questions. The premise of this collection is that the planet Earth has been abandoned, exhausted of its resources and that the population has emigrated to Mars. However, the humans have mutated into a variant species, one – or more – of whom returns to Earth to investigate the redundant planet.
In 'Ancestral Tales', a history is given of how the immigrants to Mars at first succumbed to the extremes of the conditions on the planet, then adapted to be able to survive the sun's rays and develop agriculture. It states that only a black man was able to withstand the intense heat and sunlight.
And being born black all over he met the sun
As no more than a neighbour, as inferior, its heat rays
Passing straight through that blackness unchanged and so
He always felt too cold […]
His female partner becomes black through a punishment: 'Hers was to be lowered headfirst into a deep and oily pool';  'She bubbled in the lightless depths, she breathed those treacles in.'
Some readers, especially black women, might find the reference to skin colour in these terms alarming.and regressive, with its historical link to eugenics. However, as the narrative continues,
And when those two at length found each other
Their numerous progeny, greasy, small
And black inside and out
Roamed the land through the silent night
Seizing those to whom they took a fancy
Men, women and children alike,
Spreading further their blackness […]
For Morgan this colour change has been 'strengthening the race'.
Morgan allows the reader to see Earth through the Martian's eyes, to defamiliarize objects or events that we take for granted; a familiar trope in Science Fiction. Although Morgan crafts his poetry very finely, I find his assumptions clumsy in places, especially where the poems direct themselves towards females. In 'The Martian Unpacks his Companion', the reference seems too analogous to a sex doll for this female reader to feel comfortable. This criticism extends to his treatment of females in many other poems in this collection, where the 'otherness' of the Martian males is extended and far outweighed by the 'otherness' of the females.
In many of the poems, the Martian investigating environments of the Earthling past, is destructive, breaking domestic objects, or dismantling and re-forming cultural artefacts. In 'The Martian Visits the Museum', he discovers taxidermy cabinets:
He opened up the enclosures and set to work.
When he was finished
Several stiff-limbed impala were tangled
Through the wheels of a steam locomotive
While small varnished fish lay on their sides
Spaced evenly along the buffered tracks.
Above this numerous sun-dried insects
Their pins still sticking out
Had been glued to the green and yellow underside
Of a nine-foot gravity bomb.
The Martians appear to have an incredibly cavalier attitude towards their children. In 'A Cautionary Tale', what began as a grim fairy tale of 'three little Martian Boys', each of whom succumbs to the dangers of a neighbour's farm machinery, their mother, now expecting her fourth child,
Waddled over to apologise
Past fences lashed tight with rawhide and on
Down rows of flourishing crops to knock
At a door above which
A black doll had been hung
Lump-limbed and puffy-cheeked […]
She agrees with her neighbour, over a cup of Chamomile tea, that 'if it hadn't been perilous, it wouldn't have been an adventure'.
The Martian's Regress is the work of a highly accomplished poet whose language is crafted with great skill.