Tweet
Lynn Michell
(Linen Press, 2020); Pbk £9.99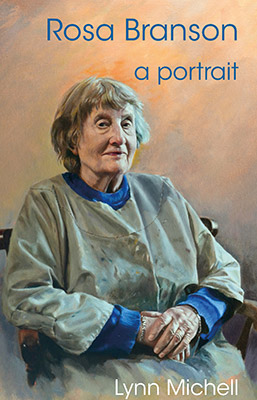 Writer and publisher, Lynn Michell's published work spans over 30 years. Michell has produced works of fiction, non-fiction, text books and poetry, much of her work being shortlisted for literary awards. This is her first biography. Its subject, the artist Rosa Branson, was born in 1933 and is still living and painting!
This is not a conventional biography, in that its structure is not purely chronological, nor does it follow the third-person narrative of most biographies. Instead, it focuses on various aspects of the artist's life, with discrete sections covering Rosa's childhood, education and technique, interspersed with her family history. There is a foreword by a colleague of Rosa, Heath Rosselli, an Honorary Freeman of the Worshipful Company of Painter-Stainers. There are also interviews with the artist in her home and studio, and the book contains photographs of the artist and her work. The final chapter is written by Rosa herself.
Michell describes with great sensitivity the artist's early life. Rosa's parents were communists, but her mother's background was aristocratic. It seems unsurprising then, that Rosa's family life would be unconventional from the start. She was born in London, just after Hitler had become Chancellor of Germany and the rise of Fascism across Europe threatened global peace. Michell describes how Rosa's parents felt compelled to devote their lives to activism at the expense of keeping their family together, and describes the experience of a young child being sent to boarding school at the age of two, distraught at the sight of her parents leaving her in a strange world of dormitories and bullies. Her childhood was dominated by these separations, especially during WWII, when her mother Noreen worked as an Air Raid Warden and living in London was considered too dangerous for children. Rosa's father, Clive, was killed in action when Rosa was 10 years old. His death was a devastating loss but it settled her resolve to become an artist like him. Rosa revered her father, but she wanted to paint in a style very different from his.
Michell describes how, at the age of six, Rosa is taken by her mother to the National Gallery and shown the paintings loved and revered by Clive.
She looked up at the paintings by Botticelli, Titian and Leonardo and thought, 'When I grow up I will do pictures like this'.
Michell describes Rosa's struggles at Art Colleges in London, where her chosen technique was rejected by her teachers, almost driving her to suicide. Luckily, a visiting conservator from the National Gallery invited her to copy from paintings by the Old Masters, honing the skills that would lead to a successful career in painting.
Michell describes and illustrates the technique of the Old Masters in a series of photographs of Rosa's paintings as they are developed. There are also technical notes providing more detail on the techniques and how they developed historically.
In Chapter 10 the author describes how Rosa, at the age of 60, had gone on a Scandinavian cruise whilst grieving for her husband Henry, who had died of prostate cancer in 1989. There she met a future collaborator and partner, Harold Sumption, a fundraiser with various charities. His work inspired Rosa to channel her energies into making large montage paintings showing the work of charities such as the Red Cross, Mercy Ships and others, using her talent as a force for good in the world.
In the final chapters, Michell details the recognition Rosa has received in the form of and MBE in 2010 and an Honorary Doctorate from the University of Winchester in 2013. She also includes recent excerpts from Rosa's memoirs.
Michell's biography of Rosa Branson is a redemptive story of an exceptional woman determined to overcome the obstacles put in her way to become a successful artist.
Jenny Gorrod