Tweet
Kevin Barry
(Canongate, 2020); hbk, £14.99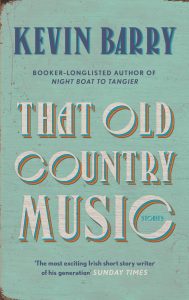 Kevin Barry's most recent collection of short stories, That Old Country Music, once again proves his stronghold in the industry. The highly-acclaimed Irish writer uses this collection to explore many narratives that flow alongside the perils of passion. Barry creates this standpoint as a sort of anti-romantic. Each of the eleven stories proves of great interest in this way: from the heartbreak of a loveless life in 'The Coast of Leitrim' to the lost narrative of a runaway child in 'Roma Kid'. Whilst it is clear why this collection took Barry over eight years to write, with the different uses of dialogue formats and changes in favouring third to first person, the journey he goes on as a writer is intriguing and exposed in 'Roethke in the Bughouse': 
When you say you're going into work, as a writer, what you mean is you're about to crawl into your fucking nerves.
This collection is littered with dark humour. Barry does not hold back in his passing comments on the harsh realities of his characters' lives. In 'Old Stock', we see the narrator deal with the death of his Uncle Aldo – a rough character who lived his life through women and alcohol. The death of such a character begins to transform the narrator into that of a similar vein to his uncle, until he decides to sell the house and 'let go'. It is through his many off-handed comments we see Barry's humour emerge: 'Maybe it had not been the best idea to get into my suicide attempt over the coffee.'
The reader is given further comment on the tragic event of the character's life but is then left to deal with the aftereffect of his more humorous tone. In this way we also see Barry lean into the effects of living a rural, Irish life. He balances both the beauty and the hardships that such an environment can produce, as exemplified in 'Old Stock':
Here's a very old joke – 
Cause of Death: the west of Ireland.
His reliance on this black humour enables these stark realities to be shown. The importance of Ireland is also key in his choice of language. He slips in and out of the use of Irish dialect, deepening the reader's involvement in the environment. Growing up with an Irish stepfamily, many of these phrases ring clear to me, but to other readers they may take a couple of seconds to fully grasp what the characters are trying to say. For example, the idea of being 'ran' is circulated in 'Deer Season' when the father tells his daughter that the older man she has been seeing was chased out of his home:
'He was ran out of it,' her father said.
'He was ran where?'
'He was ran!'
This is Barry's brief yet translucent way of allowing the reader to understand the background of these characters without having to directly label it. Even his reliance on swearing depicts the characters' personalities.
This collection was a very short read and each story hooked me into its upturn of characters. There was no shortage of comical one-liners or surprisingly deeper insights into the way of life in rural Ireland. We get a sense of the real world in which these people live and not the traditional all-encompassing, overwhelming beauty of nature. It is here we can relate to the title, That Old Country Music, for the natural old world of Ireland is where we can understand the emotionally charged narratives. As the opening epigraph from Jane Campion says: 'It's a heroic path and it generally ends dangerously.'
Amy Turnbull