Tweet
Jenny Offill
(Granta, 2020); hbk, £12.99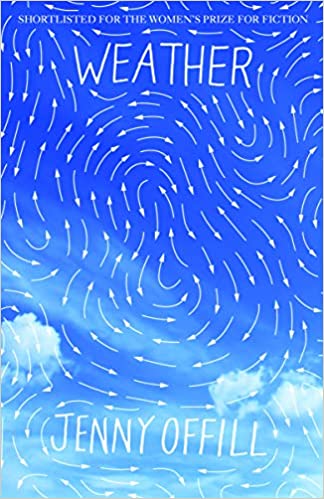 Weather, the third novel from Jenny Offill, reveals a juxtaposition of modern anxieties: marriage and motherhood demand microscopic introspection at one end of the scale, while the amorphous threat of indistinct global destruction looms large at the other. Offill revisits the fragmentary form established in her previous novel, Dept. of Speculation, which was listed in the 10 Best Books of the Year 2014 by the New York Times Book Review.
Weather is centred around Lizzie, a Brooklyn librarian and mother, who Offill quickly envelopes with a population of people. Her co-dependent brother Henry struggles to define his burgeoning relationship and impending fatherhood amongst his self-destructive addictions. Lizzie's haplessness leaves her unable to extricate herself from this 'enmeshment' with her brother and she pulls her marriage into the path of a potential affair instead, the thrill of which brings some relief to her oppression. The political present backgrounds her day-to-day family living but it is the notion of apocalyptic doom which increasingly foregrounds her thoughts. She takes a job answering emails from disillusioned 'doomsteaders' on behalf of a former mentor, the university professor Sylvia, who now works the speaking circuit after finding podcast fame espousing impending climate dangers.
Lizzie is revealed through her caustic observations of others – 'She was very pregnant, six months maybe. Oh, don't worry, I thought, the differentiated world is coming for your ass.' – and with wit which is so concisely pared down that it can take a moment to register: '…a coworker who has taken to carrying X-rays around in her purse. Some kind of medical mistake. It can't be undone, but it can be recounted.' Offill also revels in the simplicity of language play, which always reveals a little more of the characters and is often deeply sardonic, as in this example: 
'She slipped and fell while on jury duty. Funny thing is it was a slip-and-fall case, she tells me. And tells me and tells me.'
Relinquishing formal narrative structure, Offill's storytelling is a deeply fragmented form. Weather is all but novella length and formed in short paragraphs which stand alone, though the use of ellipsis provides some sense of groupings. These concise and almost disembodied statements task the reader to fill everything in between. This quote follows observations about the local weather and the dog barking – 'The news blares in from the living room. He wants to build a wall. It will have a beautiful door, he says.' – and precedes a Q and A about post-apocalyptic farming. It must be deduced that it is 2016 and Trump has won the election.
Offill successfully explores thematic preoccupations through this varied assemblage of distance, between the macro level of global destruction and the micro level of personal doubt. Yet the form is not as uniquely suited to the topic of climate change as it felt to the intimacy of marital strife within Dept. of Speculation. The framing, too, in Weather feels less concrete – reliant on the assumption that librarians absorb factual knowledge because of their constant proximity to it. Even with the delightful professional dig of denoting Lizzie as a 'feral librarian', this overlooks the realities of overstretched day jobs within academic librarianship.
However, to judge form by examining individual paragraphs is to miss the value of accumulation, the very concept that this novel pulls into focus. Climate change has not simultaneously captured the attention of humanity, yet our incremental damage will cause catastrophic change nonetheless. Of course, it is not the job of fiction to present empirical data for environmental science. Instead, Offill builds a dimensional view of the social constructs her character is trapped within, producing a commentary that reads as personal revelation, distracted as we all are, and so sadly incapable of assimilating the wealth of information at our fingertips about impending environmental damage and decay.
Hannah Whaley