Tweet
Paulo Scott
(And Other Stories, 2021); pbk £10.00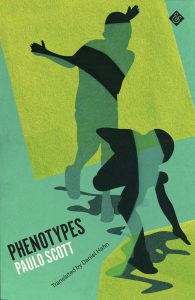 Phenotypes offers readers a fascinating eye into the complicated inner-workings of Latin America's, and specifically Brazil's, racial injustices in a way that those within the Anglosphere of literature can understand. Scott's writing style and storytelling succeeds in evoking the gritty realism of  the Brazilian population and government's view on  'blacks', 'whites' and 'browns' in the pre-2000s and the period of social unrest in the 2010s

The story follows two brothers, Federico (the character-focaliser of the novel) and Lourenço, siblings from a mixed-race marriage between a black father with a history in policing, and their white mother. However, as well as being two distinct personalities, they are also located in two distinct social worlds. Federico is the lighter-skinned of the two and therefore is seen as more 'white', while Lourenço is classed as unmistakably 'black' in the novel's representations of Brazil's racial definitions. Yet the latter is also well-liked by many characters thanks to his charismatic personality. With these depictions, Scott draws attention to the stark mistreatment of those considered 'black' compared to those considered 'white', regardless of character, and consequently, the hypocrisy of a society that bases status on 'blackness'.  Federico arguably has had a less fulfilling and more guilty life than Lourenço due to his character, yet he would be seen by some as above his brother due to his perceived racial superiority, the irony being they are siblings from the same mixed family.
Racial prejudice figures large in the book, and Scott covers the subject very naturally throughout the story. Even during the segments that follow an older Federico, the plot still manages to keep this theme at the forefront. Federico is a part of a government commission created to tackle the issue of 'rating' blackness in a non-discriminatory, objective way despite many people refusing to acknowledge him as trying to help the 'black' Brazilians due to his whiteness and 'stuck-up' attitude, as clearly shown when a bartender from his past calls him out on his past, and belittles him as a 'cretin palm-heart opportunist piece of shit'. Like Khaled Hosseini's The Kite Runner, a sibling duo act as a structural device and their lives provide a vector to explore the racial prejudices of each respective social world. Both books also involve a niece/nephew in distress which recalls the brothers back to their hometown.

Phenotypes covers more than a theme of race, however. By following the life of Federico, we are exposed to all aspects of his life, including his failed relationship with his ex, Bárbara, his work on the commission, the flawed viewpoints of his colleges and the government, and most significant to the plot, the hostile culture surrounding his and his brother's hometown of Porto Alegre. This theme of violence and unrest cements itself as a core message of the book; a gun used in a murder, hidden long ago by a younger Federico and Lourenço, is found by Roberta, Lourenço's daughter, leading to her arrest and forcing the two to confront the past. This narrative thread enables Scott to also cover the corruption of police and government via the proxy of Federico, Roberta, Federico's father.
As the book was originally written in Brazilian Portuguese, it is thanks to the work of translator Daniel Hahn that we have an English version. Although at first, the lack of certain punctuation conventions like speech marks takes a while to get used to, overall, this was not an issue that affected my reading experience too much. Hahn has excelled in translating the original in a way that conveys the book's messages potently and with tact for an English-speaking audience, smoothly guiding the reader through the twists and turns of the plot.

I'd recommend this book to anyone curious about everyday life and social issues in Brazil or Latin America in general.
Luke Perry