Tweet
Rachel Plummer
(The Emma Press, 2019); pbk: £12.00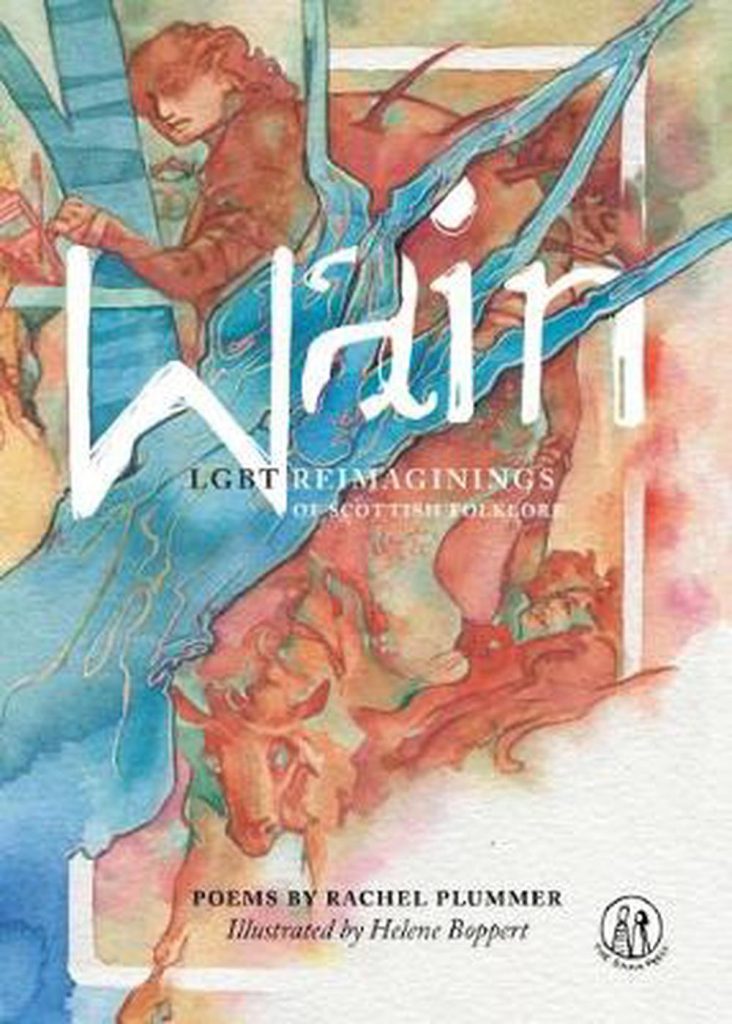 Scotland is known for ancient 'icons' such as the Loch Ness Monster, its national animal being mythical in itself (the unicorn), and its seemingly endless array of folk tales, passed down through generations. What Rachel Plummer captures in their collection Wain is a reimagining of Scottish folklore through an LGBTQ lens. This book greets you with a watercolour explosion of a cover in which a faerie creature beckons you to turn the page and enter this enchanting collection. Painted tree branches grow through the letters of the title, tangling and twisting through the word 'Wain', a Scots word for child, derived from wee, or little. This book was commissioned by LGBT Youth Scotland and is intended for a younger audience, aimed at teens in particular. This allows for a collection which is accessible to all. Consisting of 33 poems, each a retelling of a different Scottish folk tale, Wain is mighty in both meaning and empowerment.
Helene Boppert's stunning watercolour illustrations flow through the book lapping against the page like a gentle tide, never consuming the words, but enhancing them, just as the ocean reflects a beautiful sky creating a whole image. Suitably, Boppert's palette embraces every colour in the rainbow just as Plummer's poetry encompasses all kinds of people. Plummer's words carry you away into the whimsical, yet honest, exploration of gender, sexuality, and identity.
The collection opens with 'Selkie', one of the more well-known of the Scottish mythological creatures. This Selkie, however, is a metaphor about gender identity, who 'takes girlness off like a sealskin:/ something that never sat right on his shoulders'. Another favourite of mine from the collection is 'Nessie'. In this tale the Loch Ness Monster is genderless: 'Not a boy or a girl, But real'. This validates the non-binary experience, those not identifying completely with either gender. All too often are non-binary people shunned and misgendered, the poem nods to this 'You don't need to believe in Nessie./ Your belief doesn't change who Nessie is'.
Why shouldn't LGBTQ families be able to relate to the stories that enchant us as children? Looking at the same stories through the LGBTQ lens, Plummer is not changing the original tales, only enhancing what is already there with details and a narrative that represents the unrepresented. For example, 'Nimblemen' keeps to the original tale of the Northern Lights being warriors dancing in the sky, but in Plummer's queer lens for this tale they dance around their handbags,
Fabulous warriors. Merry
dancers. Bonny lads in green
lipstick, flicking
our well-glittered hair.
Even the air is dancing tonight,
it shimmies[…]
The collection ends with 'Mairead' in which young girls are fed to a dragon, for 'This is the way the world is'. In this retelling, the princess Mairead, slays the dragon in a 'chainmail dress'. Imagery such as this give fuel for beautiful dreams, ones in which little girls do not need to wait to be saved but can be their own saviour. Messages like this dismantle the ancient heteronormative and misogynistic stance of Scottish folklore and transforms it into something beautiful, accepting, and empowering.
Yes, this collection is relatively new, and it may be described as contemporary for its content. But LGBTQ people have always existed, whether that is in secret like the Selkie or infamously like Nessie. For Scottish children to see themselves in the folklore from their own national heritage is truly awe-inspiring. For the next generation, and the child inside us all that only wants to be loved for who they are; selkie or otherwise, Wain is a must for every bookshelf.
Renni Keay