Bandit Country (Shortlisted, TS Eliot Prize)
Tweet
James Conor Patterson,
(Picador Poetry, 2022); pbk, £10.99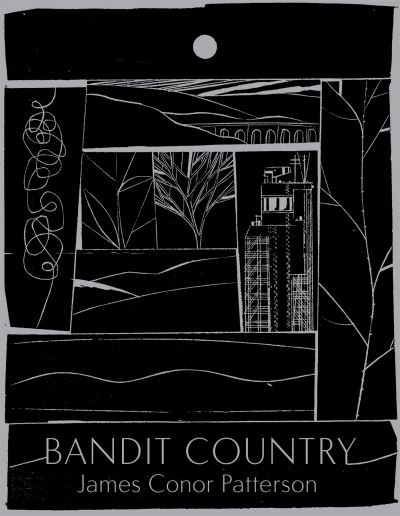 James Conor Patterson's first collection, Bandit Country, begins with an epigraph from Douglas Dunn which expresses a desire to 'become a landmark'. In a sense, this too is Paterson's aim, in his inventive collection of poems that bring voice to Northern Ireland's 'ceasefire generation'.
The collection displays a complexity of the language(s) employed, the rhythmic vernaculars of Ulster Scots, the cadence of the Northern Irish phraseology, and an English language heavily peppered with literary referencing; they all combine, pluralistic and porous, blending from one to the next, stitching different tongues together and showing, to use Dunn's words again, what it is to be 'an example of being part of a place.'
Home and nationhood figure heavily throughout the collection, such as in the last verse of 'Yew':
pointin its way t ward heaven & cryin,
my god, this is where i'm rooted.
In the poem 'sanctuary' Paterson writes:
'am twenty nai, an destined for such things
as premature death from stroke at forty[.]
Not just an identity issue in its abstract sense, but Patterson reminds us here of the crucial realities of our geographic identities, how they determine that which we long to pretend is indeterminable. These details also reveal the importance of the generations before showing us our future – or what could have been our past. In 'about suffering' he writes,
the sorta thing i imagine there mighta bin
had i lived through the eighties; as the unheard of, unseen
narrator of an altoger
grottier icarus.
And in 'Bar Story', a poem about his father,
                   …between him & me.
things get summoned t inhabit our circle
like ouija, an as his story plays out,
someone does an accent, someone else a face,
and when the punchline finally arrives
we laugh[.]
These poems are not just about community but are set in the heart of it—around pub tables, in snatches of conversations, and how they are made sense of through Patterson's understanding of the world and the languages and literatures he uses to help him express it. In 'the regulars' we learn of a pub robbery gone wrong, with a black-comedic ending that reminds us of how politics hangs heavy and silent above the heads of the ordinary citizens.
Poems such as 'about suffering', 'the drowning', 'ritual' and 'the liberator' bear a certain political undercurrent that highlights poetry's function in providing space and contemplation of beliefs and worlds. This collection is not just situated in 'Bandit country', however, the name given by the Secretary of State of NI in the mid-70s to the lands of south Armagh, South Down and North Louth, but includes poems placed in London, Barcelona, and beyond. In 'the disappeared' considers with contemplation for the campesinos (peasant farmers) and ends with the hopeful image of 'the blue & white of the flag in cloudless sky' in Argentina.
The ceasefire generation of Bandit Country are migratory, and the shifts of place and dialect throughout this collection reflect that. In 'writing poetry at. 5am' we see the poet wrestle with his craft, describing the communal nature of poetry as
knockin
yer exploded body on the names and dates
that whisper above dublin in an empty plume, settlin as soot atop the barricades, becomin soil[.]
There's a strange antagonism to this poem, as if the poet seems to be unsure of his own contribution to the 'names and dates that whisper above Dublin in an empty plume'. In 'on meeting an influence at a book signing', Patterson describes a trying encounter with another poet whom he recommends to return to a room 'darkened by your own bitter irony' to contemplate the lives of working men like his grandfather, who 'fabricated steel for a livin an knew that words like these held no water.' in a literary echo of Seamus Heaney's own conflict with the craft in 'Digging'. Frustration is present in these pages, though there is joy too.
Patterson's poetry is intense in its refusal of the apolitical, its rebuking of the ironic, its celebration of the mystic and the digital. Bandit Country is a vibrant collection that seeks to document and detail a new generation with an ancient heritage.
Cheryl Mcgregor