Thin h/as h/air & The Flock
Tweet
Scottish Dance Theatre
Dundee Rep, 17-18 March
Two pieces from the SDT's new production are inspired by nature—imagining how we could be something else (a tree or a flock of birds). These create a shared space in a joyous & expansive act of poetic imagination.
Pauline Torzuoli, the choreographer, has suggested seeing the piece as 'a journey of a man evolved: from scientist to the spirit of a tree.' Thin h/as h/air begins with a man clad in grey and brown, sprawled on an earthy brown stage. He looks wonderingly at a gossamer thread and dances as if to test its tensile strength and flexibility. Low lighting picks out the stage floor's skin of folds and wrinkles—fine angel hair which are then gathered by the movement of the dancer, sometimes sliding, stretching or extending with drawn-out grace. The absence of soundtrack makes us more attentive to little details: the spread of his toes, the way he puffs out air, blowing hair from the side. The weightlessness of hair mirrors the dancer's slow movements, become his graceful partner, airborne sometimes or ruched up by means of a taut string drawn across the stage. He cups strands in his palms and inhales them.
When the silence is interrupted later by a sound track, the dancer, casting off his shirt(s), spins across the floor, movements gather pace and incorporating more fine hair. Yosuke Kusano as the solo dancer manages a fine physical and theatrical dynamism to his moves. Yet the ending of Thin h/as h/air is perhaps too abrupt, the briefest time lag occurs before we realise the performance end, and we need Kusano's clapping to remind us.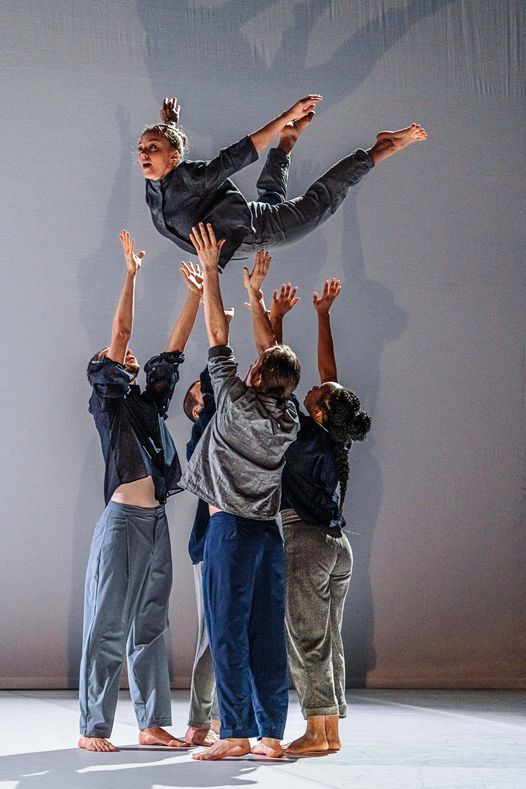 Roser López Espinosa's The Flock begins with eight dancers standing in a triangle towards an apex stage front. Small undulating movements of hands, outstretched arms flapping slowly, little leaps into half squats suggest the flight of birds (migrating geese flying overhead signalling the Scottish autumn perhaps?). Repeated by the whole group, or serially by some of its members, these movements ripple through the triangle, suggesting how flight patterns might change with different avian leads. The arresting symmetry, beautifully rendered, is enhanced by the rhythmic soundtrack. A spotlight front of stage casts shadows on the backcloth, amplifying these avian-human forms before darkness falls. When the light returns, dancers are on the floor, limp over one another and arranged in pairs. One rouses himself and others, picks bodies up, rearranging them. As he does so, the weight of each is suggested through the dancers' perfectly coordinated control as partners, and their corporeal flexibility enables a draping over one another like fabric, or swung and spun. Later, the sequence picks up more gymnastic energy with spins and tumbles, culminating in one dancer being lifted horizontally, thrown airborne before being caught. The last dancer on stage wakes herself, tries out her limbs, puzzling over their lack of response in a brief comic aside before spider-crawling across the floor, arms outstretched and legs akimbo. In the final sequence of The Flight, the whole cast returns on stage incrementally in a demanding routine of acrobatic dances, some of which echo the initial segment. Occasionally small groups break off, for example there is a dance-fight reminiscent of martial arts films where dancers respond carefully to each other's push and parries. The Flight's end sequence is riveting, returning us to the physical manifestation of a flock; the whole cast runs in circles in near perfect synchronicity, twisting, turning, diving and swerving in unison, enacting the murmuration of starlings. While the odd dancer might seem just fractionally out of synch at times, it would have been churlish to mark this down. The circular running and rhythmic gymnastics is joyous; energy and movement is celebrated and affirmed. As Christopher Kanes's V&A installation proclaims, 'Be Open to the Joy You Deserve'.
Scottish Dance Theatre's pieces are contrasting companions; Thin h/as h/air slows time down, driven perhaps by more conceptual matters. The Flock's physical energy and synchronicity is just fabulous. The flock is made real, and anyone who looks on will feel a small pull to join in. We have such talent on our doorsteps in Dundee. Go see.
Gail Low