Tweet
Les Murray
Carcanet (2022); pbk: £11.99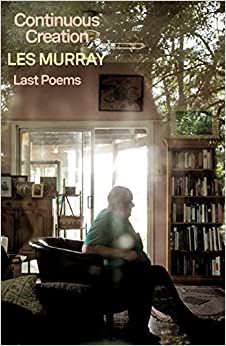 We bring nothing into this world
     except our gradual ability
     to create it, out of all that vanishes
     and all that will outlast us.
                                               ('Continuous Creation').
In spite of the poet's undeniable fastidiousness in presenting his lines, being Les Murray's editor must have had mercurial moments. Jamie Grant provides an illuminating 'Note on the Text' to open the great Australian's final collection. Murray's beloved typewriter had broken irreparably and irreplaceably; he couldn't 'enter the digital world'. The poet's wife began typing his work, but the couple's ailing health became problematic. Despite the promise of 'three-quarters of a new book', not unreasonably, Grant doubted any book actually existed in November, 2018, only five months before Murray's death.

Yet that three-quarters book, dutifully typed by Valerie Murray, was indeed tucked in a folder in the poet's study. Close by was a cardboard box, filled with handwritten drafts (in an interesting posthumous challenge to his assertion he didn't make 'many drafts in handwriting')…about a quarter of a book's worth. Grant had to shape all of this into this major poet's last and at that point unnamed book. The titular poem above is quoted in its entirety.

Grant records that Murray's 'usual mental acuity was in decline', so I opened the book with considerable trepidation. Arguably, Continuous Creation will not challenge certain earlier works, but is this a finale fitting the Bard of Bunyah? Yes. '[F]lesh tells what mind forgets' ('Waiting for the Post').
His regular themes occur: Bunyah, of course, and a wider perspective on Australia for all its joys, and no soft interrogation of his land's colonial flaws. There's his nigh-spiritual, under-the-nails farm ingrained environmentalism, his acute observation of the ordinary rendered extraordinary. There are his slants on where women and the non-neurotypical are too often placed, reflecting his own, often painful, backstory. There's Murray's terse recognition of the vulnerability of the alcoholic's 'wife on the bus/ lovingly escaping eight children' ('Parental Job Swap') and the Murray who records, with loving humour, the unintended fun in his autistic son's words. To miss Murray's wit would indeed axe such a chunk from his output, but it's generally benevolent, with its satirical edge reserved for those deserving that sharpness. Then, that sure-footed self-deprecation: no-one fat- shames Murray like Murray. In this final collection there are numerous poems of overview, reviews of his early life and its consequences (e.g. 'The Scores'), and some very ambitious wide-ranging perspectives on Australia, and his ancestral past, not omitting his mention of that 'lapidary Gaelic', alongside clear pictures of 'patriarchs and other locals'.  Yes, Murray knew this was his last word.
After a thirty-year tenure editing Quadrant, and having 'the good fortune to be interested in everything', Murray's craft is almost too polished. It's far too easy to be lulled into complacency by the seemingly accessible. These are not outwardly 'modern' poems, and indeed some like 'The Invention of Pigs' perhaps recall earlier masterpieces ('Pigs', 1938), which were more overtly challenging linguistically. Reader, beware. Whatever Murray termed his 'rough metre', and whatever he presents as a comfortably, bouncy way with rhyme, please never underestimate that formal skill. Note when the anticipated pattern of full-rhyme turns slant, or a sudden internal quirk defies the end-rhyme expectation. Consider that apparently archaic inverted word order, actually honed to build the scale of an animal ('Speed'), and none of this is accidental, nor superfluous to the poems' subject or sonics. Be doubly-cautious; if ever a poet knew how to ease along four seemingly 'just' observational stanzas, then deliver a punch-in-the-guts-and-mind last line, it was Les Murray. His lines were never 'only ever middlebrow, the culture of the habitual' ('Half-price Hardback').
The poet has been well-served by his editor, so there's some reason Continuous Creation isn't prefaced as every other collection by the 'apprentice Catholic' is. Whether you agree or not, the late, great Les Murray certainly won't worry:
To the glory of God
Beth McDonough