Tweet
David Ross Linklater,
(Wish Fulfillment Press, 2022); pbk £10.00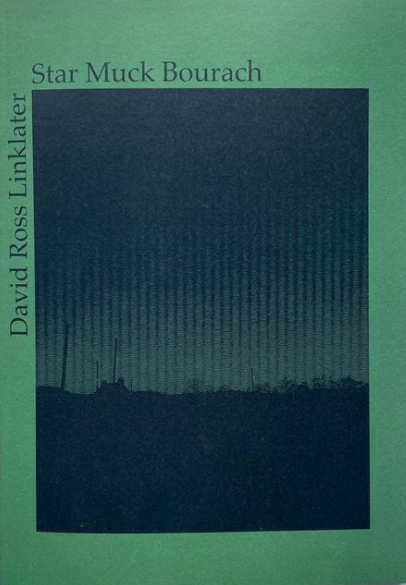 Embracing the rural landscapes of Northeast Scotland, Star Muck Bourach explores intergenerational changes within the land and its occupants. David Ross Linklater's fourth pamphlet documents his idealised imaginings of an agricultural childhood as it becomes progressively tainted by destruction and loss. This collection continues Linklater's exploration of environmental issues whilst navigating an uncharted territory where 'only the hills know where we go from here.' It questions humanity's inclination towards industrialisation and their effects despite their inevitably short lifespans when in comparison to nature.
Referring to a 'rope' or 'mess,' the title's inclusion of Bourach implies both a taut tethering and a sense of chaos, encouraging us to consider the implications of attempting to confine nature and its historical narratives to suit an increasingly technologized world.
Linklater's coastal setting and farmyard inhabitants come to life on the page with a humane sense of vitality and emotion. 'At the Farm' introduces this interconnection between nature and humanity, observing,
the mother's all tied to their calves
and the childless
anew to the otherworldliness of grief
that old skin[.]
Amidst this 'gorse lit with silver veins' Linklater's personification breaks down artificial barriers between the human and the natural, embracing their connections through shared experiences and suffering. However, the internal, manmade setting of 'In the Shed' exposes the human narrator's hands as 'strange and worn,' contrasting with 'the black water / that shimmered with its palm / of light.' The Highlands are depicted as youthful and hopeful;  humans are exposed as frail and mortal, hindered by an obsession with death and destruction. A metaphor for the human body, the shed becomes 'a gallery of wonders / torn down' with 'the years / beginning to grip the bones.' This representation is furthered in 'Field Language':
the wind finds chords in bannisters
and rotted boards
making a strange, low-down tune[.]
Combining artificiality with agriculture, and creation with destruction, Linklater allows elements of Scottish nature to intertwine with the unnatural domestic space, creating something both beautiful and eerily haunting. In this house that is 'black-throated with soil and wet wood,' we are left to question to what extent we can embrace this coexistence.
Linklater implies an eventual acceptance of these connections, as evidenced in his personification of daffodils  in 'Yes, Yes':
Still, they are generous
in their wilt, praising the season
that birthed them,
dancing a little bloom dance and moving on.
I try to learn that.
In a rural defiance against societal pressures of a hustle culture prevalent in urban areas, traditional staples of Scottish nature teach us to acknowledge mortality whilst embracing the present moment:
They will soon die,
kneel into the dirt
yet, they are wildly happy – Yes, yes.
Linklater has a keen eye for these 'quiet brilliances,' and personifies them so effectively that we see ourselves within the fabric of this vast coastline. Destruction and mortality are imprinted into the landscape, a constant reminder of concerns that spread far beyond the solitude of the Highlands; as observed in the eponymous 'Star Muck Bourach', 'you turn over a leaf and see that it has veins, too.' The daffodils become a recurring motif, developing into 'a set of pale antlers / cut from the head of a forest lord.' Their defiance against urban constraints become regal and mystical, a new folklore engraved into the traditions of the land. The narrator embraces this mythological empowerment,
Melted away on a wheel
I will be born into and remain something
that is constantly changing[.]
Such empowerment extends to a crow's dreamscapes in 'Poem for the Dreaming Corvid', embracing traditional dialects of this wild territory to come to terms with contemporary, metropolitan issues:
I am a mere detail. My time is short,
largely unseen and though I am worn,
split in the beak, parts of me going,
I am still capable of the most drastic flight.
I blaze with life.
Having traversed a landscape of destruction and renewal, Linklater uses the Highlands as a mirror reflecting our innermost concerns and struggles, our youth and mortality, our nostalgia for the past and uncertainty for the future.
Orla Davey
---