Tweet
London Classic Theatre
Until Saturday, 30th September
Dundee Rep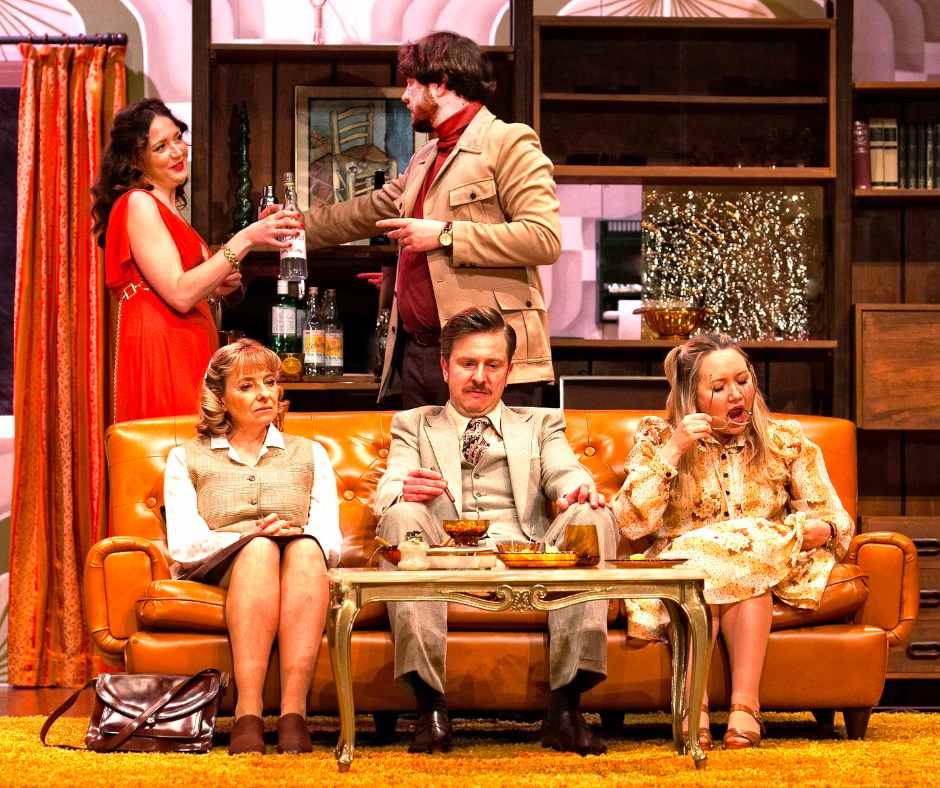 Those of us who have had the misfortune of hosting, or attending, a "get to know the neighbours" party will be familiar with the scene: the obligatory dance and drink to get into the mood; the awkward and out of place guests; the eagerly offered nibbles. Mike Leigh's Abigail's Party invites us into the living room of Beverly and Laurence and sets us up for a night of drinking, music and, of course, meeting the neighbours.
The set design put us exactly there. A leather three-piece suite, a modern fibre optic lamp and a record player suggests the 1970s (the only thing missing is a sunburst clock). You can already tell that the off-stage bathroom will be avocado. The set looks like a trendy clutch at straws for a couple trying to climb the social ladder. The drinks on the dresser are lit before the lights come up, bringing the audience's eyes towards a focal point of the play, foreshadowing what is yet to come.
The faint bass in the background serves as a constant reminder of the nights that the characters could have had back in a time when they were fifteen, a night full of wild laughter and 'puppy love' observed through glimpses into the garden. In comparison to the sophisticated classical music and the swingin' Elvis, the presence of Fleetwood Mac feels youthful, pushing the characters to have more fun (or, in the case of Susan, ensure that her daughter isn't having too much fun).
Each actor in the production brings just enough to their characters to make them unique without going over the top, be it speaking with a slightly grating North London accent or sitting rigidly with crossed legs. The cast's chemistry with one another shows us their desperation; each one had to do what they felt was right, despite each character having opposing opinions on what the right thing really might be, or on how the night should go. The way that the cast shift from heavy topics talked about like small talk to full blown fights made me wonder if their glasses contained real gin and tonics! Their exchanges put every audience member on the edge of their seats.
Representations of social status shine through. Beverly's over-the-top, impressive floor length gown and insistence that her husband change into a nicer suit paints her as a woman desperately trying to rise up the ranks. She wants to be right in a time of female empowerment, entirely unaware that this doesn't have to mean that Laurence is always wrong. Rebecca Birch's interpretation makes us feel as though Beverly's fate rests on this night, and that she has no choice but to make everyone enjoy themselves. George Readshaw's quiet Tony and Alice De-Warrenne's ditzy Angela show a working-class couple who are stuck as they are, and De-Warrenne's portrayal gives us a glimpse at a woman who should be every bit as independent as Beverly sees herself, but her husband refusal to allow her to be as tough as she can be keeps her with him. Readshaw shows us a man who won't give too much away because of an underlying fear of failure. Jo Castleton's Susan is the true middle-class, she has her own interests at heart and Castleton's uninterested demeanour in company shows this wonderfully.
To put on a show that is so loved and has been done countless times is a challenge, something new needs to be brought to it. Michael Cabot's production of the classic tragi-comedy did just that. We were able to love characters at some points, hate them at others, and the play left us thinking about how we love and how we treat those that we care about.
Roshni Baillie
Ed — this review was originally written for London Classic Theatre's production of Abigail's Party at Perth Theatre.