Second Coming & Winter, Again
Tweet
Scottish Dance at the Rep 20 - 23 February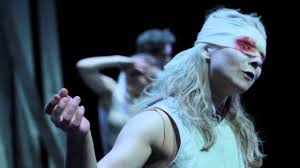 Two very different pieces were performed by the international Scottish Dance Theatre at Dundee Rep in late February. The programme's opener, Second Coming, featuring music by Paganini, Bach, Beethoven and Jasper Gahunia, was from the Angelino choreographer Victor Quijada, while the Norwegian Jo Strømgren designed the next offering, Winter, Again. Strømgren used voice-over for narrative purposes, as well as several Schubert songs.
Second Coming was postmodernist dance, entailing compound ironies enacted within and upon audience expectations. The spectators entered and found their seats to a bare stage with several dancers in everyday clothing warming up, and no lighting or props in evidence. It was explained (without a microphone at first) that backstage flooding had led to a short circuit and a small fire; the dancers had therefore not had time to rehearse as they would have wished; our indulgence was sought. In the meantime, they would demonstrate some of their dance material for us. Ideas and instructions about lighting were shouted from the sound console in the back row of the auditorium. There was, it seemed, much well-meaning improvisation. One section of the audience cackled uproariously at each mildly amusing embarrassment, revealing a certain tension.
At a given point, confession was made: none of the framing circumstance was literal, but part of the piece. By that time, the dance had begun to assume its own fluency. A dancer came on, bemoaning at some length the pseudo-intellectual, elitist nature of this avant-garde experiment, which the poor, inadequately noticed troupe had to enact thanklessly. This too was quickly transmuted into a series of movements; stylized and assimilated into the dance. The fragments and other accessory elements, many borrowed from urban dance routines, were gradually gathered into a coherent and convincing whole. It was a practical exhibition of a postmodernist text's ability to announce its formal methods and still win emotional assent and aesthetic belief.
Strømgren's Winter, Again presented a more fabular world in full costume and makeup, with props and lighting prearranged as one would conventionally expect. The intermittent, educated female English voice-over told us Winter was a metaphor of hidden or obscured guilt, which must come to light with the advent of Spring. Each episode was danced to a Schubert song. There were nods to Chekhov (dead seagulls; pistol shots), to Ibsen (a final gun-inflicted female suicide), and to Sophocles (the blindness and sight trope), with an underpinning of Strindbergian and Kierkegaardian angest (anxiety, and guilt as original sin). There were also moments of earnest comedy. An illuminated bucket downstage right was the focus of much unresolved interest on the part of the dancers. They peered into it, as though the truth were there. They were in fact awaiting the thaw, when a loud persistent drip resonantly declared the arrival of Spring, and dreaded leakage.
The dances were largely successful in addressing the formal demands of purely symbolic rhythm and movement on one hand, in which the dynamics of choreographed bodies imply the presence of meaning; and, on the other, the more extrinsic requirements of narrative, with elements of story and allegory. These pieces blurred the normative borders between acting and dancing, inasmuch as there was (onstage and off) the spoken word as a framing device; and insofar as we were offered (notably in the Strømgren dance) a situation or moral dilemma (however surreal) which invited commentary. Of course, symbolism in dance need not be symbolic 'of' anything so specific. The satisfaction dance gives is that of any art: the felt realisation of objective form, which answers our wish for an achieved poise. Moral emblemism and narrativity are not strictly needed. Yet these dances convincingly blended storytelling with the abstract symbolism of bodies in motion to music. The experiment was worth seeing, and instructive.
Jim Stewart