Tweet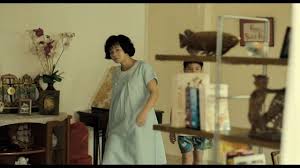 Edgar Allan Poe once said of the short story that it must have a "single mood and every sentence must build towards it". On this count, Ilo Ilo works more like a short story and less like a novel. An accomplished film, Anthony Chen's debut is undertaken with a surefooted understanding of character and a subtle, controlled economy of effort.
Set in 1997 during the Asian financial crisis, Ilo Ilo is centred on the Lim family. Teck (Chen TianWen) and Hwee Leng (Yeo YannYann) have demanding but not well-paid full-time jobs; to cope, they import a Filipino woman to serve as a live-in maid and nanny for their delinquent nine year old son, Jiale. Teresa's guest-worker status is problematic; despite her very low pay, she can only work legally as a domestic for the family that hires her. Much like the chicks that are bought for Jiale as both pets and food, Teresa (Angeli Bayani) might be hired to look after Jiale but this is also, of course, a financial transaction. Her marginality is underscored very economically in the film; despite living in the Lim's home, she does not belong. Her passport is taken away; less nanny and more servant, she is altogether an awkward presence at important family affairs (sometimes framed literally on the other side of doorways, windows or dividers). However Jiale, who can be rude, selfish and demanding, does bonds with "Auntie Terry". Despite initially bullying her, their companionable horseplay is very sweetly captured in the film and Terry is an emotional ballast for the Lims.
Ilo Ilo knows its material intimately, producing a nuanced understanding of a status-conscious Singapore society: the relentless drive to be respectable, to succeed and not to "lose face" in relation to others. In Chen's film, such a combination makes for secret lives and little real communication: Teck loses substantially on the stock market, is also made redundant and yet does not share the news with his heavily pregnant wife; Hwee Leng keeps up appearances with siblings and fellow workers despite her family's financial difficulties and her growing despair. In desperation, she wastes money on a confidence trickster who promotes self-help to the vulnerable. No one can bring themselves to talk frankly to each other. If the poignant squaring up to reality that occurs near the film's end suggests a new beginning, it also has enormous emotional ramifications for Jiale.
Ilo Ilo's intense domestic drama translates into its filmic aesthetics, with indoor shots that are tightly framed, crammed with domestic items and individuals, calling attention to the family's physical but not emotional proximity. Midshots and close-ups encourage us to read faces and to penetrate their facades. While Chen's film's realist poetics might be said to resemble Taiwanese New Wave, the style is actually not unlike television drama at its best, with few sentimental flourishes or melodramatic musical scoring. As a consequence, the emotional lushness of the music Jiale hears in the Walkman inherited from Teresa when the screen fades to black is a real jolt. Period details are faithfully reproduced; from the two-roomed HDB (Housing Development Board) apartments and its furnishings to the virtual "Tamagochi" pet, "Snake Brand Prickly Heat" or "Cuticura" talcum, here is a director with a fastidious eye.
Other stories that could have taken the film down different roads are hinted at but not pursued: the wider social and political canvas of a recession which had tragic consequences for some; government engineered campaigns for greater community within its concrete jungles; the class divisions marked subtly as linguistic divides; even Teresa's backstory in the Philippines (attempted suicide, a 12 month old child left behind) is not developed. Ilo Ilo eschews the explicitly political and thus blunts its social critique. Yet in choosing to focus on the family, Chen makes all sorts of strategic gains; politics is, after all, about the real cost to lives. According to Poe, consumed in a single sitting, the short story must produce "an intense and enduring impression". Ilo Ilo might not be a short story, but it is a small, quiet and beautifully formed filmic equivalent.
Gail Low