The Cartographer Tries to Map a Way to Zion (Costa Poetry Award Shortlist and Winner of the Forward Prize "Best Collection 2014")
Tweet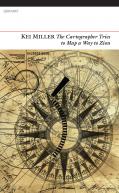 If Kei Miller hasn't produced a poetry collection since 2010, the intervening years have been anything but unproductive: two marvellous novels, a blog, a doctorate, editing work and a wonderful collection of essays. Yet Miller's poetic sensibility is special; his ability to suggest a transcendent luminosity in the single line or a small commonplace detail, his lyric voice and special feeling for the shape and sound of words, and his care with the hidden lives of words are all distinctive features. No pressure then Mr Miller as I open The Cartographer Tries to Map a Way to Zion.
An extended dialogue between a cartographer and a "rastaman" over the nature and function of maps and mapmaking provides the central spine to Miller's new collection about the politics and poetics of place. Underpinned by a voracious imperial appetite turning space into useable knowledge in order to master, conquer or to exploit, the cartographer's abstract, scientific systems, as the rastaman objects,
Make thin and crushable
All that is big and real as ourselves; is to make flat
All that is high and rolling; is to make invisible an wutliss
plenty things that poor people cyaa do without – like board
houses, and the corner shop from which Miss Katie sell
her famous peanut porridge.
In contrast, the rastaman's "map" is an invitation to think – with openness – about the ways in which the Caribbean landscape is imbued not only with the legacies of empire, but with local, personal and spiritual histories, and to see how spaces are transformed into places by their inhabitants (animal and human) and made to matter. Miller, being Miller, also invites us to think about the ways in which stories, myths, narratives, words – the imaginative – are sedimented into the lives of place names: "Wait-a-Bit", "Me-No-Sen-You-No-Come", "Flog Man". Yet this collection offers no heavy-handed political lesson; the cartographer is given some wonderful lines, for example, when defending the right to name:
         –  every language, even yours,
is a partial map of this world – it is
the man who never learnt the word
'scrupe' – sound of silk or chiffon moving
against the floor – such a man would not know
how to listen for the scrupe of his bride's dress….
Threaded through this dialogue of twenty seven parts are other gems that also reflect on the nature of place, naming, language and history, all of which speak to the largesse that is Caribbean literature. This is a poet speaking out of and also to a Caribbean literary tradition – Kamau Brathwaite, Louise Bennett, Mikey Smith, Derek Walcott, Lorna Goodison, among others – while all the time thinking about the poet's relationship with the world and the language we all inhabit. Miller's strategic repetition of words, phrase and syntax shows his rhetorical and performative expertise, and his awareness of the musical legacies of Caribbean. Similarly, the bold shifts of gear between a Jamaican creole, a Rastafarian vocabulary and an Anglophone lyric tradition indicate a poetic sensibility that can straddle these divides – even undo them. In addition to poems that address historical tragedy, there are heartbreaking poems of  personal loss seen, for example, through a final gathering of dolls that map the world ("My Mother's Atlas of Dolls"), and poems that thoughtfully gesture towards a larger dimension outside what we think we know: an "unsettled", "unflattened" "unsugared" island with the "shrug" of animals "who though/ hated and hunted, have remained// profoundly unbothered". All are leavened by flashes of humour, not only in the obvious comedy of upturned 28,000 yellow rubber ducks teaching scientists about global currents in "squeakless silence", but also in the punch line of the "I-informant" who responds to the cartographer's impatient request for directions.
If, in some senses, Miller's cartographer has to learn the true meaning of his task, finding "a rhythm/ the measure that exists in everything", the rastaman, like his Emperor, locates the divine and his Zion with his sights firmly set on the ground:
Reach through history; touch
this kneeling crowd – the tarmac
soft against the substance of its faith.
With one eye fixed on the other side, this collection moves liminally between states, things, borders and people. Moving, wry and wise in turns, and much more than the sum of its parts, with The Cartographer Tries to Map a Way to Zion, one can't help but fall in love with Miller's poetry all over again.
Gail Low
Kei Miller in conversation with Susan Mains is available on the DURA guest pages.