The Bees (Baileys Prize Shortlist)
Tweet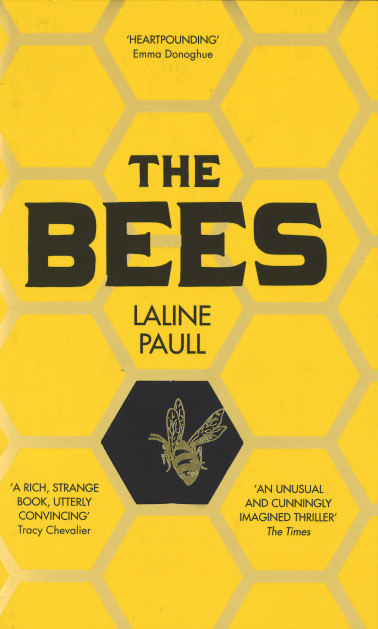 The Bees, Laline Paull's dystopian novel, is a bizarre and often shocking allegory of the human world's negotiation of difference, otherness, power and social hierarchies. Given the widespread use of pesticides and farming on an industrial scale, the book also functions as a timely reminder of our role in a global declining bee population, with devastating consequences for food production.
Flora 717, the anthropomorphised insect – the text's protagonist and focaliser – is born into the caste system of sanitation, within which every bee is born and raised according to its own specific function or indeed duty. Of course, within regimental structured environments, pockets of corruption, manipulation, suppression and confrontation often arise, alongside dissent. Flora is propelled from her proletariat underclass world through the golden nurseries protected by the "sisters and the Queen's Love," into a personified world which possesses all the human hallmarks of class division, religion, war, and repression, the hive acting as a melting pot for all of humanity's foibles.
Flora, alongside her female insect companions, is constantly harassed by the overbearing testosterone driven male drones, who make brash sexual innuendoes towards anything which remotely resembles a female. Paull's group of sexually charged drones are described as an RAF squadron who have together been flying sorties from an all-male aircraft carrier somewhere in the Persian Gulf and the metaphors are apt. Paull's drones are, of course, the defenders of the hive and their mission location is the orchard in which the hive dwells.
Hive life is beautifully described, as are its inhabitants. Paull takes the reader on a journey through the golden honeycombed tunnels of the hive, complete with the complex instincts associated with polymorphous creatures:
the vibrations in the comb floor became more insistent, stronger and stronger, as if it were a living thing beneath her [Flora], energy running in all directions. With a buzzing sensation through all her six feet, a torrent of information rushed up into her body and her brain….  Under her feet spread a vast mosaic of hexagonal floor tiles, the patterns scrolling across the lobby and down the corridors. Endless streams of bees crisscrossed all around them, and the air was thick with scent broadcasting.
Paull appreciates the intricacies of nature, and we are treated to the raised awareness of the five senses, with one interesting addition – the ability to read minds.  This extra sense is something which Flora needs to counteract fairly soon due to her inexplicable penchant for conceiving. For this is a feat which only the Holy Mother, The Queen, may undertake, and which is punishable by death should any female, other than her royal highness, be found challenging the Queen's sole right to lay eggs. Interestingly, it is Flora's promotion to "forager" which permits the narrative to finally take off, and only at that point  do we appreciate the difficulties faced by a dissenter trying to survive in a totalitarian state.
As we share in Flora's adventures and empathise with her various predicaments, we are reminded by an omniscient voice throughout the novel  that this is not about nature, this is all about humanity  Paull's mirror to nature helps us to reflect on what we are doing to the planet. The Bees offers us not only a fictitious glimpse into a single bee's journey but also provides insight into the key role these tiny insects play in our lives and the shared ecology of our planet. Paull's prologue begins with two humans discussing the sale and development of an old orchard, flanked by some arable fields and a derelict light industrial estate; the woman takes some photos with her mobile phone and turns to the owner saying, "prime brownfield site".  As Paull's personified bees forewarn, "if we go we are taking you all with us."
Phil Welsh