Tweet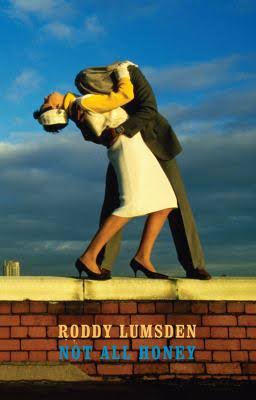 7 Across : Poet finds himself in the doldrums. Deny everything! (5, 7)
Roddy Lumsden has done as much as anyone in modern British poetry to explore and develop form. A string of engrossing and inventive collections stretching back nearly twenty years has cemented his reputation as a singular voice, happy to work with wildly differing tones and themes, adventurous in his use of vocabulary and the vernacular. Not All Honey adds significantly to this reputation.
Followers of Lumsden's work will know that he is also a celebrated quiz aficionado; many of his poems contain elaborate references to the esoteric and the arcane. These interests find representation in his short "kernel" poem "The Ximenean", where Ximenes refers to the legendary Observer crossword-setter, someone who delighted in the cryptic while operating within a set of conventions – arguably Lumsden himself?
These kernel poems are grouped in the book's final section The Bells Of Hope, a title shared with Lumsden's 2012 pamphlet (Penned In The Margins). The book's earlier part is split broadly in half, "Hope Versus Doubt and Doubt Versus Hope". An intervening section, "Reductions", consists of formally-consistent fifteen-line poems, all titled with words more likely to be found as the answers to Ximenean clues – "Tragelaph", "Agrodolce", "Astolat" and others. Each offers economic, precise meditations, occasionally at odds with their cryptic titles. In "Ubald" Lumsden observes:
Anything, I see now,
is the least nourishing slice
of everything. The seeming

sadness of unblocking
the kitchen sink is merely
the sadness within us,

which rolls at a constant
degree, infects the thinning
crowd of allies.
The collection's main section is topped and tailed with two curious poems "Farewell To Bread" and "Farewell To Dumplings" consisting of apparent non-sequiturs, lines from stolen or mislaid conversations with friends. Offering confession and confusion, they entice the reader into speculating on the fullness of those conversations, prompting as-yet-unwritten poems of their own:
I was a cipher in my own petty system of abandon.
When I argued internally, it was generally with you, friend.

I uninvented the sandwich. I worked on
the square root of my happiness.
There is great beauty in such ostensible disconnection, randomness, except that little of what he writes is actually random or disconnected. I found myself trying to decipher connections between the two poems, seeking a hidden dialogue across pages. Perhaps the sole connection is in the adherence to a pleasing form.
Not All Honey is populated by Lumsden's friends, although he seems to accept that his intellect and erudition, intimidatingly broad for most, may cause him times of friendlessness. In "For Charlotte", he addresses a younger friend, with great tenderness and wisdom:
You are drawn to the road's middle,
to march it fierce. I do not know what you will
be.
It feels like the poet wants to pass on something of his wisdom and skill, but feels the frustration of not being able to do so:
Maybe some pitchy day you will need to run,
and I'll be elsewhere.
The poem which will stay with me longest is "Bad Player", a piece with whose sentiments I couldn't help but associate. It is a not-entirely sympathetic poem of consolation for those whose talent fails to take them beyond mediocrity. Lumsden says, with a slightly disingenuous air but with what he might himself describe as "terrific melancholy",
I am nothing much but I go for what I go for
because life has only offered me that much.
and subsequently,
I look at you, bad players,
and think of time I have spent on my own,
the sad walk to hope.
This is the authentic, private voice of the modern poet, eternally wracked with self-doubt, suspecting their worth among poets and the world at large. In Lumsden's case, self-doubt is unnecessary; this is a marvellous puzzle of a book. With its cryptic convolutions, set within a framework of form and structure, attempting to solve the puzzle of Roddy Lumsden may be almost impossible, but nonetheless strangely compelling.
Andy Jackson