Loop of Jade ( Winner of the 2015 T S Eliot Prize for Poetry)
Tweet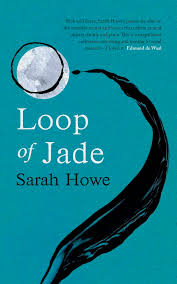 Back cover blurbs may be accurate but they can also be misleading. Loop of Jade is described as an exploration "of a dual heritage" – Chinese and British – a "journeying back… in search of her roots". My heart sank a little. Without diminishing the importance of such endeavours, the intervening three decades of identity politics has also led to, perhaps, a sense of, well, here we go again.
Yet what an ambitious, complex and terrific collection Sarah Howe's debut turns out to be. Loop provides us not only lyric's intimacy but serves up erudite, rich and literary-dense poems in its hall of mirrors. Using Jorges Luis Borges's invocation of the Celestial Emporium of Benevolent Knowledge as epigraph and frame is a stroke of utter genius. For the fantastical, surreal taxonomy of Borges's fictitious encyclopedia's list speak to the collection's mixture – nay, palimpsest – of each highly worked layer: fabular, real, fantastical, personal or autobiographic, literary, literary-historical, literary-mythological (Classical Greek and Chinese), and the unconscious. Despite the bewildering range of references, the ornate and almost baroque quality of Loop's fabular imaginings, an underlying well-spring glimmers, "some dank, subterranean chamber of the head", imagined startlingly as "the glistening bodies/of cockroaches, like obscene sucked sweets" and sublimely as the platonic music of the spheres. The latter hint at age-old invisible structures: "how numbers hum/ and the planets are tuned to blacksmith's bows/in unheard chords[.]"
The carefully crafted verse, lyrical prose and prose poetry indicate a confidence and surety of touch. Yet thematically, what emerges – and most poignantly – is disjuncture.  Houyi's Elixir of Immortality, mistakenly drunk by his wife, leads to separation; she ascends skywards, "cold and lonely now", her sleeves trailing "like a cloud". The repeated similes in "Crossing from Guangdong" ("not like you", "Like a baby", "like in those postcards", "like joints") call attention to states that can't be bridged easily. (Re)connection is imagined as a desire for filiation:
                        He lifts his eyes to read
my face. They flicker of his uncertainty
as he makes out eyes, the contour of a nose:
half-recognition. These bare moments –
something like finding family.
The tug of the heart is inscribed across the terrain of desire as lack,
Something sets us looking for a place.
Old stories tell that is we could only get there
all distances would be erased [,]
and met by the cry, "I can never know this place", a keen awareness of gaps (figured sometimes as physical spaces between words), misreadings or unreliability. Such hesitancies convey a vulnerability that balances the joyfully scholarly and erudite material, suffusing the collection with tonal intimacy. Pondering the noun "mother", Howe writes,
In her mouth that noun worried me. For I would never naturally use it myself – mother – except at an immigration office, perhaps, to total strangers, or inside the boundaries of a poem. She paces it in the room's still air with a kind of resolve, and yet a sense it's not quite right – a mistranslation.

Like watching her wade, one dredged step at a time out into a wide grey straight – myself a waving spot, unseen, on the furthest shore.
Time is one key to Loop. Howe's self-reflexive handling of temporal disjunctures between the time of the event, of the memory and the writing of it, of dream and fabular time is handled deftly and delicately. There are instances of regret and melancholy (time past/passing) as well as instances of momentary transcendence, epiphanies of form and feeling even, as in "Life Room".
Given how China's ancient cultures are commodified in the West, accusations of deliberate exoticism can be levelled at Loop, for Howe's China is strange, other-worldly and, at times, almost decoratively enchanting. Yet to make this charge is also to miss the point, as is signalled by the Borges epigraph. All these deliberate castings speak to how the real and the imaginary are intertwined in how we stage our inheritance.
Gail Low
Read [There were barnacles…] from Loop of Jade.