Tweet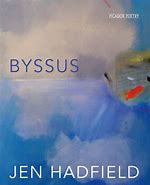 Byssus – strong, tenaciously anchoring; the mussel's beard, all delicate multiple fibres, with the capacity to be woven into highly desirable cloth. Jen Hadfield's title for her first collection since the Eliot-winning Nigh-No-Place is a near-perfect metaphor for her attachment to her adopted Shetland, and for that land's own bedrock hold.
Byssus challenges with its extraordinary range and more than justified ambition. Hadfield tackles many forms and guises: subverting nursery rhymes, chaining couplets, writing free verse, list, shape, concrete and prose poems fluidly. Shetland's landscapes, and more pertinently seascapes articulate the collection, and she salts her relationship with the place beyond the easy and obvious, without ever sacrificing her innate lyricism. Her influences are myriad; there are textures of Heaney, not only in her close observation of shorelines, but in the threading through of a self-reflexive exploration of her language and poetic processes. His Glanmore Sonnets seem near:
[…] if I tried to describe the
smell of the air, I'd have to hood the vowels with hyphens,
the gods being in the vowels.
Conversely, when she speaks of language rather than landscape…
Already I can only noun
about its shores
and surfaces [.]
Her language is both richly evocative, yet aptly spare. In poems like "Hydra" we hear Anglo-Saxon values:
to dig as digging used to be done
and patterns of cynghanedd-type crafting, and perhaps a feel of Gerard Manley Hopkins. Consider:
the hill at the risk of crackling ribs.
Sour gusts of heat and perfume from
the stirred earth. A span of sea glittering
with gannets, like a face-full of piercings.
Ekphrastic poetry often disappoints, but surely no more wonderful word image has ever emerged from a Landseer.
None of this should suggest that Hadfield is derivative or overworked. Far from it; her love of language is manifest in both her English and Shetlandic words. She provides a glossary, but – a minor quibble – I'd have read the imagery of "flukes" differently had that word for diverse creatures in both languages been italicised or translated below the poem. Then again, that is perhaps unimportant as the poet makes creative cuts through linguistic conventions. Her germane neologisms, her play with punctuation and typography, her brave line breaks "ever slow//er up", "brok//en dahlias" and more are perhaps best heard in her shape poems ("The Puffballs" is particularly marvellously sustained), which never veer towards the twee, and in those poems which might be called concrete. Ian Hamilton Finlay believed that such poems should not be read aloud. Hadfield's "Smiles learnt in the cockle-beds" denies that … its spacing over two, back-to-back pages not only offering a visual hit, but its incantatory repetitions giving a rhythmic sway. The whitespace works hard for the poet as a stage direction for timing and movement. Those first three words, sneaking in before the title, are a delight. Finlay himself receives a nod in a suitably upper-cased poem, a Sherriff's
                                     TH
ROAT STACKED WITH C
HINS
all too horribly realised.
Ever adept with form, a single poem like "The March Springs" opens as a concrete poem, and on the page turn becomes a prose poem block. Hadfield employs not only to her skilful words, but a deft use of space to open her thoughts.
The full prose poems here often spring from an interior space – including that of a car – in their contemplation of the Aurora , fridges and oranges. Yet this seemingly less-constrained form allows for a stream-of-consciousness interior narrative in direct contrast to her lined poems. In her stanzaic poems she often personifies the shore dwellers, right from the collection's opening query, "Who listens/ like lichen listens [..?]" on.
Worth reading for the list poem "The Ambition" alone –
If my knees knocked it was two flints striking
My skin shagreen[,]
which summons the experience of entering the North Sea, perfectly.
Reviewing Byssus, it is hard not to gush.
[A]djectives salt, parch and wizen it.
language abdicates
but you
in your stocking feet
stand a chance.
This collection stuns.
Beth McDonough
Jen Hadfield will be appearing at the Dundee Literary Festival, 26 October 2015.