Tweet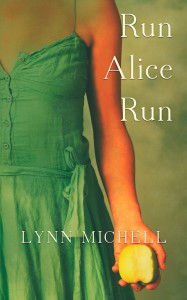 This is Lynn Michell's second novel, following on from White Lies, which was published in 2011. Michell has also published non-fiction and children's educational books.
Alice Green is finding that hitting 50 is much the same as becoming invisible. In an attempt to turn this observation to her advantage, she goes on a shop-lifting spree. But Alice is not what you would expect of a 50 year old shoplifter. She is married to a university professor and lives in leafy suburbia in Edinburgh's Grange district.
The novel begins in 2007, with Alice returning home from a visit to the local swimming pool. She is confronted by a fleet of police cars outside her home. In her confusion, she is suddenly joined by the 'ghost' of her former self, a younger version of Alice before she was worn down by emotionally abusive relationships with men. Young Alice helps her older self to look back over the years in order to perceive the events that have led to her arrest and humiliation.
This is a novel that avoids didacticism. It presents Alice's story much as she sees it from her own perspective, only allowing her perceptions to become clear through time. It investigates how, for many women, enduring emotional abuse within a relationship 'reads' as an everyday occurrence; it is almost to be expected in our society. It's hard not to feel for Alice, as she moves through her teenage years to young adulthood, always accepting her partners' views as the only possible interpretation of reality while disregarding her own subjective experience. It illustrates how a mutilated sense of self can translate into a set of behaviours that range from self-harm to rebellious cries for help.
The other issue that comes across very powerfully in the novel is that although Alice is very bright – she obtains a PhD at a time when that was a rare occurrence for women – her career expectations are as poor as her self-esteem. Michell reflects accurately how, in the 70s and 80s, the concept of Equal Opportunities for women was still a lip service. The views of Alice's father, expressed with depressing force early in the novel, confirm that no one expects Alice to achieve very much and that her duty as a woman is to marry and have children.
Reading the novel can be rather infuriating at times: the reader is constantly brought to the point of wanting to intervene, to confront Alice with what is really happening and to blow the cover of her unsympathetic and manipulative partners. But this frustration adds to the credibility of Alice as a well-drawn character. The reader sympathises with her and strongly desires to lay bare the selfishness of the men in her life while teaching her not to accept such treatment.
There was a question that arose in this reader's mind, though. Where are Alice's women friends? It seems unlikely that someone as lovable as Alice would go through life without the friendship of a single other woman, even if she is almost atavistically servile to the men she loves. Often, a woman's friends act as the safety valve for intolerable situations, sometimes enabling the woman to see her situation clearly. This begs another question: did Michell deliberately deprive Alice of friends in order to highlight the effect that isolation can have on emotionally abused personalities? This is a theme that runs through many instances of domestic abuse. The abuse need not necessarily be violent. Often, a woman can be easily manipulated by her own lack of self-esteem, just like Alice.
Thankfully, the narrative refuses to sentence Alice to a miserable fate. In this eloquent novel, Lynn Michell ultimately weaves a poignant tale of hard-won freedom.
Jenny Gorrod