Tweet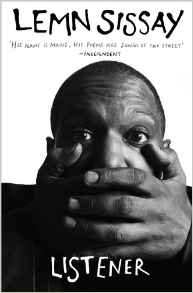 Lemn Sissay's ability to inspire a wide gamut of emotions in his reader makes his last published collection, the 2008 Listener, still a thought-provoking and vivid collection. Comprising of one short essay and 57 free verse poems his is an individual voice which simultaneously evokes pathos, joy, hope and longing. Whatever the topic, and there are many  ̶  love, historic events, anger, isolation  ̶   it is Sissay's extraordinary and unparalleled voice that captivates.
Sissay's mother migrated from Ethiopia to study in the UK in the late 60s not knowing that she was with child; when he was born she asked for him to be temporarily fostered while she return to her studies. He was moved from home to home: fostered, adopted and then placed back in the care system. His unfortunate childhood certainly has a clear bearing on his work. Sissay has remarked that poetry has given him a degree of liberation from these early traumas: "In creativity, I saw light. In the imagination, I saw the endless possibility of life." This "endless possibility of life" is conveyed throughout Listener, a collection that exposes Sissay's personal thoughts and truths.
Be it through his sense-gripping, semi-concrete poem, "Rain", where individual letters have been positioned to look like droplets of rain falling down the page, or in the pathos-evoking three-line poem, "Christmas," Sissay does indeed seize the senses, transforming the real world into that "endless possibility of life". "Christmas", for all its brevity, grips through its exploration of isolation:
Christmas can be split into two kinds of people –
Those who look into the windows of houses of others
And those who look out.
The theme of longing to be someone, or something else, is conveyed in "Architecture" where through the word-play and repetition of the word "each", Sissay depicts a world where everyone and everything wants to be something more. Repetition is also used effectively in "Some things I like"; the repeated of "I like" is deliberately comical, particularly read and imagined with the image of a reader galvanised into shouting some random sequence of "likes".
In the found poem "Signs", Sissay simply lists a range of signage vocabulary, and in doing so, he suggests that the modern individual has perhaps become someone who follows the masses and does exactly as he or she is told. The mourning for the loss of individuality or and creative responsibility to a herd mentality is palpable.
Sissay's longest poem in Listener, "The Queen Speaks", explores several themes, amongst which are class, privilege and racism. The repetition of "I was born as you were born" parallels the experience of the ordinary British citizen with that of the country's "nobility". This poem points out that, despite class and privilege, humans are all the same: we are all born and we all die. Yet, these truisms are suppressed; with characteristically ironic undertones in his list of comparisons, we are reminded that we are the same under the skin. Sissay's depiction of racism in this collection is one that will provoke thought, anger and pathos:
The other day I was serving a man who was taking my service
And he said to me this man, 'Why don't you go back home?',
And I responded as you may have responded;
'This is my home,' I said, as you might have said too.
Lemn Sissay's Listener is a collection that should be read by everyone. Each poem, in an inspirationally performative voice that reaches out from the page, situates the reader in a thought and emotion-strong whirlwind. Whilst we all perceive life differently, in Listener, Sissay asks us to consider the reasons for his own very remarkable perception of the world. And it is certainly worthwhile request.
Sioned Raybould