Tweet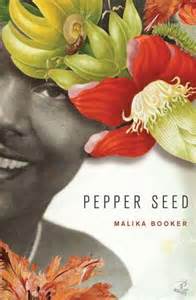 Red peppers and plantain, hibiscus and hummingbirds, saltfish and snapper, kaiso and calypso – all feature in Malika Booker's debut collection, Pepper Seed, as its narrative slips between Guyana, Grenada, Trinidad and Brixton to tell intertwined personal and political stories.  Booker's writing is at once both searing and beautifully lyrical, the past slipping into the present, enabling her to  evoke complexities which lie beyond the reach of conventional text books and biographies.
Given the context of colonialism, slavery, misogyny as well as present-day racism, Pepper Seed is not, by any means, an easy read, confronting the reader with acts and words of cruelty and brutality, their immediate effects and long-distant after-effects.
The collection opens with "Granny's Love Poems":
Imagine her different, a fairy-tale granny
cooking fudge for brown cinnamon girls like me.
Her pale sugar eyes twinkle.
This fantasy granny is not, however, the granny of Booker's story.  In the sequence poem, "Red Ants Bite" (1), granny speaks:
You will end up on your back, scunt spread out
feet sprawl out, whoring. Who tells a child that?
Yet I loved her. She was my granny,

and I wanted her to love me back,
but everyday her words
put this hard thing deep inside me.
Towards the end of the sequence, we learn just what grandmother has endured:
I was a slave baby mixed with plantation white.
This creamy skin draw buckman, blackman,

coolieman, like prize…
Grandmother's brutality towards the girl-child, vulnerable by virtue of her gender, becomes understandable once we know her own experience and her motivation:
I toughen you soffie-ness, mek man can't fuck you
easy so. […].
Booker looks back to the origins of this tough-love protection in nineteenth-century slavery in Grenada with "Death of an Overseer" and "Minetta Speaks": ".. I lie here eyes squeezed, /a crushed hibiscus, petals ripped, /his hard green banana juking my saltfish".
The narrative shifts to "Brixton Market" where mother:
…. would test the okra,
bending their tips, placing only
the ones that snapped into a brown paper bag;
the way she scrutinised the yam,
feeling and weighing it in her palm;
these are happier memories but, here too, the past is present:
I would learn that this is how my grandmother
taught her, kneeling in the bush uprooting dasheen
on the family land. She, too, hawk-eyed,
tested each provision to know
what was ripe, ready and good to cook.
Booker is equally at home writing about the Carib people of Grenada who jumped off cliffs to avoid domination by the invading French; women suffering at the hands of men; young people lured from the islands by the consumerist promises of the US; a lament for activist, Walter Rodney, following his assassination; and  the destructive force of Hurricane Ivan:
All over the island is pure bacchanal.
Zinc roofs dance feral in the pitch dark.
and all man jack gone wild. Everything
back in front. Crapaud smoke he pipe

tonight as shack shack trees shoo shoo
with mammy apple tress, whilst Jumbie
Umbrella macco the scene. Everywhere
is pure jab jab mass, a fierce sound clash[.]
("Island Grief After Hurricane Ivan")
She writes lyrically and pithily about the racism which greeted people who came to Britain and the US. In "Saltfish":
Everyday you feel like your teeth cracking on hard
stale cassava bread. This place ain't winning at all;
is like they don't realise we can still go back home.
There are also moments of great tenderness, joy and humour in Pepper Seed and its language, energy and range somehow manage to transcend the shameful deeds it exposes. This is a stunning first collection.
Lindsay Macgregor