Tweet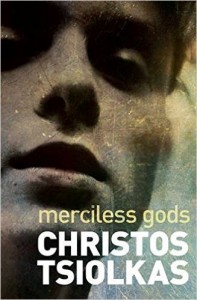 With his first collection of short stories, Christos Tsiolkas is successful in looking with a new perspective at subjects which have often been considered to be taboo. The protagonists in Merciless Gods are misfits and junkies exploring their sexual identity. Almost all of the stories are set in Australia, where Tsiolkas himself grew up, and some have the Greek immigrant setting of the author's own experience.
Merciless Gods begins with a narrative which sets out the generally very dark mood of this collection. Bearing the title of the collection itself, the first story introduces the reader to an apparently harmless game of storytelling. Vincent who has been competing with one of friends for a job, decides to get revenge after he did not get the promotion. Vincent thereby drives the whole group apart. Loss, loneliness and alienation are portrayed as inevitable consequences of modern life. However, "Merciless Gods", also deals with another common 21st century problem: individuality.
So much of what we did then seemed to be an effort to convince our friends that we were witty and erudite. Conceited though it might sound, we did believe ourselves to be special, that we stood apart from the common herd of twenty-somethings in our city. That all seems so absurd to me now …
The whole collection is pierced by loss of identity and the meaninglessness of the individual among the masses. Tsiolkas repeatedly addresses the anonymous city lifestyle that is led by many people nowadays. Few of his protagonists are referred to by their names, which adds to the ambiguity of the stories, which are driven by an escapist attitude. "Hung Phat" for example tells the story of a boy trying to hold on to his childhood friend Zazie, even though both of them want to get away from the place they grew up in. The protagonist travels around the world but still doesn't find what he is looking for:
Mate, I hate this place, I hate NY, I am lonely and I'm cold and no one speaks to me. I hate their fast chicken, fast ribs, fast burger, fast fries, fast lives.
The only positive thing that the protagonist has left in his life are his childhood memories and the love he holds for his friend Zazie. In Merciless Gods, nostalgia and love seem to be the only things worth holding on to in the modern world. Tsiolkas engages with love in all sorts of relationships. He plays with the reader's expectation, and the characters' identities and sexual orientation are purposely left ambiguous.
But it is also the way in which Tsiolkas portrays love which makes this collection so provocative. Many of the stories engage with sex, and incorporate violence, rape and incest within that context, giving the sense that this is done with the sole aim of shocking the reader. In particular the three last stories of this collection, "Porn 1", "Porn 2", and "Porn 3" (the titles of which clearly indicate their content), seemed to have only been placed there in order to leave a memorable impact in the reader's mind.
Merciless Gods is a very accessible book due of the simplicity of its language. It struck me, most of all through its provocative elements, as a fresh experience. Some of the stories went beyond their initial purpose of discomposing the reader, with their crude, vulgar content. However, what I will remember most strongly about this collection is the everyday-sadness of Tsiolkas' narrative style, a style which makes identification with his peculiar cast of characters possible.
Xiaoqing Ji