Tweet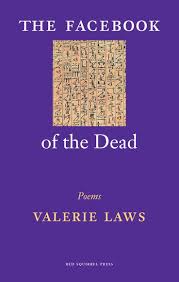 Valerie Laws, in the title pages of this poetry collection, is described as "Poet, crime novelist, performer, playwright, Writer-in Residence at science institutes, sci-art installation specialist, mathematician." Phew! Like many other writers and artists, Laws clearly has her fingers in many different creative pies; this is very much in evidence in the varied subject matter and structure of The Facebook of the Dead.
The first set of poems has no stated theme; amongst these are many which could be happily read repeatedly. The titular poem, "The Facebook of the Dead", unites powerful language and current cultural references to explore grief at the loss of a friend, drawing parallels with Facebook actions and the emotions we might feel at different stages of bereavement:
…and if I could, I'd unfriend Death for you, report him for abuse, the troll
Who poked you, who is 'following' us all, block him for good.
From "Baking Scones for Eminem", to "Ophelia's sista", and on to "Scent for a Suffragette", we are carried through and stoked up with humor and pathos in equal measure. This latter poem is beautifully constructed, using the suffragette colours of green, white and violet to explore different sensory experiences evoked by, we are told, "Lush's scent 'the Smell of Weather Turning'". As a collector of Lush and many other perfumes myself, I felt wholly engaged with the powerful and imaginative ways in which Laws takes the scent apart layer by layer.
Now we come to the first disappointment of the collection: the inclusion of "A Quantum Haiku" – "eleven words sprayed onto beach balls, moved by/in water, can be randomly rearranged to form almost 40 million poems. Commissioned for BBC 2… Blah Blah; there is no good reason for these words to be taking up space on the page, and I found the poem irksome, to say the least. The other poems are of such quality that the interruption feels rude, misplaced and gratuitous.
Unfortunately, this is not the only disappointment, and we find another later in the section "Poems of Pathology, Anatomy and Dealing with Death", generated poems formed from "nine words carved on wooden leaves floating freely on the water…" I'm not saying that these poems don't hold their value, but these have to be in their own environment, which is most definitely not on the pages of this compelling collection.
On a more positive note, in this latter section, Laws includes "Acute Mountain Sickness: Everest", wherein she clearly uses her scientific education to explore some of the harsher consequences of attempting to climb that mountain, and we feel her deft touch in both the personal and universal application of her vision:
So climbers, all dying, pass them in procession through the years
Lying in plain sight, long dead, their bright weatherproofs
Fluttering in the blizzards. Some have become waymarkers,
Warnings: David, Green Boots, Frances, Hannelore; all life
In them, even rot, stopped.
In the final selection of poems, "Poems of Politics, Activism and Protest", any book addict will be drawn to "Free! All-you-can-read Buffet"
In bed, in bath, in class under the desk…gorging
From Blyton to Christie and beyond to new worlds[.]
With the exceptions I have mentioned, this is a finely-crafted collection, and the poems where Laws applies her scientific knowledge are particularly edifying. On her website we learn of her that "Recent years of intensive research via funded Writer's Residencies at a London Pathology Museum, Kings College London Anatomy Department, and Institute for Ageing and Health Newcastle University, have involved working with human dissection, neuroscientists and pathologists on dementia, and the science of dying." It is clear from the way Laws weaves specialist language seamlessly into her poetry that she has benefited from these experiences.
There is so much to enjoy in these pages – serious subject matter covering the heavy, classic age-old topics of love, sex and death are sometimes presented with the weight that such subjects might demand, but sometimes with humour and modern cultural references Tweeting through every line.
Lorna Hanlon