Tweet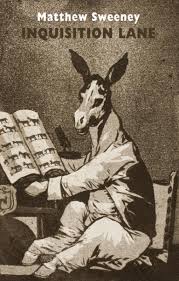 If your first foray into a multi-award-winning poet's work is his eleventh published collection, it's natural that you might approach it with a little bit of trepidation. That, in any case, was my experience. Indeed, a sense of the mysterious and the uncertain never quite left me throughout my reading of Matthew Sweeney's Inquisition Lane – but this wasn't due to my lack of knowledge. Sweeney creates surprising, often disconcerting images in his poems, and manages to do so without getting muddied-down in the oblique or the surreal.
"New York," an early poem in the collection, provided me with a vital clue to help come to terms with the volume as a whole, and to understand Sweeney's broader sphere of work. The first stanza describes a kind of aesthetic apparition:
I kept glimpsing Lou
Reed's ghost as I roamed
Manhattan – there he
was on street corners,
in every sportsbar. I
heard snatches of his
songs on the urban wind.
It was the middle of
a perfect, perfect day.
The closely clipped lines here give the poem a bustling tone – it flows and rushes along like the traffic of Manhattan. The phrases of the stanza are cut up, sectioned off and rationed out by the almost minimalist urban environment created on the page. Lou Reed's very name, for instance, is cleanly bisected by the the lines in a particularly crucial way – this forced enjambment can be taken to stand for the artist's identity and nature having been disrupted by urban artifice. His ghost lingers on however, and just as in Sweeney's clipped lines, the dead rock star's poetry inhabits an oxymoronic state, drifting on an "urban wind," meandering through the stanza as he wanders through Manhattan. In fact, Reed's deadpan spirit doesn't just float around the city in the poem – it also haunts Sweeney's voice as he reacts to an urbanised world, a de-personalised one which crams his poetic vision into a series of laconically spoken enigmatic images.
It isn't just within Inquisition Lane's urban spaces that these images appear, of course. Sweeney travels through a number of natural, mental and even metaphysical landscapes in the rest of the collection, and when considered together, these poems combine to create a fully-realised world of their own. This world is one of 'alternative realism', a phrase coined by Sweeney to counter claims that his work classifies as either surrealist poetry or magical realism. The strangeness of the poetry is internal – it exists in a psychological space that reacts to an even stranger outer world. To that end, even though various talking animals bring omens, the Pope sells chocolate, and a man is visited by miniature dancers, Inquisition Lane never feels silly. Absurd, yes, but its absurdity is framed in such a way as to highlight a deeper, more introspective and often darker mental journey. This journey never feels safe or certain, either…
In "The First Lighthouse Keeper," the eponymous speaker recounts details of his life as "lord of the darkened waves." He is present at the opening, adopts a pet seal (which, when it dies, receives a controversial Christian burial), publishes a popular cookbook and grows a "legendary" herb garden. The poem closes with the Lighthouse Keeper retiring to write his memoirs in what appears to be a satisfied state of mind, having achieved many wonderful things. With his last lines, though, Sweeney expertly preserves the balance of uncertainty:
                           […] My successor had already
been appointed. I wished the poor fellow well.
Poor fellow? Suddenly, we're not so sure of how to read the Lighthouse Keeper's life. His story has the kind of ambivalent after-taste that's characteristic of almost every poem in this collection. They all prompt immediate and multiple re-reads. Sweeney's most memorable images stay with you, like snatches of song on the urban wind.
Luke Macdonald