Tweet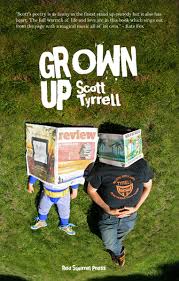 Fresh from his win in the Edinburgh Fringe Slam Poetry final in 2015, Scott Tyrell's momentum shows little signs of halting any time soon. The poet's recent collection of poems, Grown Up, can only be described as a comedic satire on domestic life, follows the poet's personal progression from cynical lost soul to grounded family man. His tongue-in cheek poetic voice resonates throughout Grown Up, resulting in a series of inviting poems that are further enhanced by the diversity of poetic forms.  
The Red Squirrel Press cover of the compilation initially caught my eye, perfectly encapsulating as it does Tyrell's thoughts on what it means to be a grown-up, or perhaps in his case, "a ridiculous father figure" This is highlighted in his introduction where he finds himself alone on his birthday and then when he describes becoming a dad. In his highly individual  brand of humour it's clear that the northerner is fascinated by the complexities of modern British life. "If the Queen was Helen Mirren" is heaped with rhyming couplets that create some underlying black humour in cleverly timed innuendos.
 I would be royally smitten.
I'd lie back and think of Britain.
Further comedy appears in "Unexpected item in the bagging area". The poem made me laugh wholeheartedly but also left me feeling melancholy as it highlighted the frustrations and destructive nature imposed on us by technology.  The allegedly time-saving technology in Tyrell's sharp observation wastes his as he's
to wait for assistance with my unexpected
item in the bagging area.
The enjambment brings home his annoyance at this particular normalcy of modern British life and, yes, that wait with which we can all identify.
Tyrell's direct address in both "The greatest poem never written" and "Coitus Interruptus" represents his irritation at those unexpected moments of family life. Boosted by his acerbic tone throughout, the poet gives an open invitation into the workings of his mind and his body. Tyrell gives his reader a front row seat in the workings of his own family dynamic … perhaps for his own private "hero's welcome".
Grown Up is also highly dependent on a knowledge of popular sayings, cultural references of fables and fairy-tales. Although, "If you go down to the woods" is arguably slightly out of sync with the theme of domestic living, under the cover of that nursery rhyme's title and the fairy tale's guise, it somehow manages to hide in the plain sight of the compilation. Raw imagery and well-known characters create a hilarious blur between reality and fiction:
The axe had landed square in the temple
Of Little Red Riding Hood's head.
Tyrell's comedy, loose rhyme schemes  and fast-paced rhythms create a sense of urgency for his reader, urging on the reader, much like George who  "had to finish the fairy-tale!". His colloquial language in "Before Gormley" breaks down more of the barriers usually expected  with poetry.  Consider his use of dialect in this following exchange, which reads as a pleasant exchange between two close friends, and gives a sense of pride in the poet's roots:
Aye. Gan on then. You can stay.
But your dad's still a ponce.
Grown Up is a comedic representation of the modern reality for the majority of British citizens. I stated earlier that his black humour, flecked with sarcasm conveys his annoyance, and this results in his very own gift to the reader. His easy-going nature permeates the poetry and will warm any nervous reader. Tyrell's collection means a lot more "than the bits between".  These laugh- inducing lines will be remembered long after reading.
Koreen Low