Les Animots: A Human Bestiary
Tweet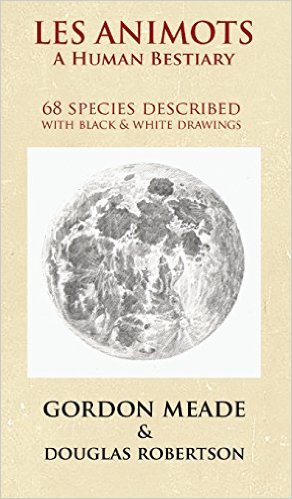 Les Animots: A Human Bestiary is Gordon Meade's eighth poetry collection. Taking animals – a perennially popular topic in poetry – as his theme, it quickly becomes apparent that Meade is playing with our preconceptions.
The book initially appears to be a field guide with "68 species described with black & white drawings", a hardback volume with serif capitals on the cover. Yet the inside text is sans serif, a subtle difference that slightly softens the tone.
Some of the seven epigraphs are perhaps longer than is strictly necessary, but they do effectively indicate the meaning of the title to the reader. One such example reveals that "An animot is an animalistic kind of word…". As such, the species are subject to extreme personification and presented in four "galleries", in the style of a museum tour.
This anthropomorphism is often written for humorous effect. In Butterfly, we have an allusion to chaos theory:
Butterfly is finding it hard
to cope with the effect she is having
on the rest of the world.
Other pieces make a comment on society, such as the impact humans have made on nature:
Badger has been
on the receiving end
of a government

initiative to try
and wipe him out.
It is difficult to find a cliché among these poems. Where an obvious one exists, it is satirised or inverted: Hyena rarely laughs, Elephant is terribly forgetful. Meade carefully maintains an objective narrative distance between himself and the subject by writing in the third person and by allowing the epigraphs and poems to speak for themselves.
Among the personified animals is the enigmatic "DNA (real name withheld)", challenging the reader to infer who or what might be its subject. While this piece fits seamlessly into the collection, thankfully it is the only such mystery, or else that guesswork might easily become an irritant.
It is clear that the poet has aimed his verse squarely at adults, not children, not least from some of the adult language he employs. The strongest swear word appears in "A Proem" before Gallery One, while Dogfish is cleverly branded "… a lazy son of a bitch". At first, the bad language seems to tarnish its textbook-like feel, but the reader comes to realise that it fits naturally with the subversive tone of the collection.
Each poem contains a maximum of 15 lines divided into regular unrhymed stanzas neatly aligned on the page, sometimes with a single trailing line for extra force. Meade's use of enjambment, however, lends a prose-like cadence when the poems are read aloud.
That brevity also allows plenty of room for the precise pencil drawings of Douglas Robertson, while still leaving sufficient negative space for a clean, minimalist page. The drawings vary in their interpretation: Wasp is presented as a biological, diagrammatic figure, while Grasshopper has a more abstract quality. Each poem can stand alone without its accompanying illustration – or vice versa – but one neatly complements the other.
Les Animots is not easily defined and would seem equally at home in a poetry library or in a zoologist's laboratory. The marriage of two or more dissimilar ideas can sometimes produce an awkward work that is neither fish nor fowl. Not so here, where poetry, field notes and illustrations are braided into a unique collection. Furthermore, it is not merely aesthetically pleasing, but stands up to repeated reading as new layers of meaning are picked out. It is difficult to think of another work presented in quite the same manner.
Gordon Meade and Douglas Robertson have set a high standard for themselves that will be difficult to match should they choose to collaborate again. Yet it is in no doubt that their readers would eagerly anticipate such a treat.
Gavin Cruickshank