The Prophets of Eternal Fjord
Tweet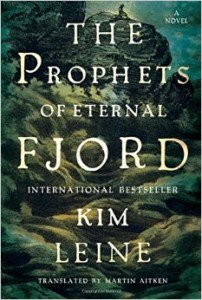 With Storms Gertrude and Imogen raging outside, Kim Leine's The Prophets of Eternal Fjord has kept me going all winter. The biblical proportions of the book itself make it unwieldy, and trying to read it in bed feels suitably like an act of penance. Physical and mental hardship defines life in colonial Greenland in the 1780s and 90s, where the majority of the story is set.
This is Danish/Norwegian Leine's fourth novel. Published in Danish in 2012, it won the prestigious Nordic Council Literature Prize in 2013, and was released in English earlier this year. Martin Aitken's translation will appeal to readers who savoured the sense of looking over Thomas Cromwell's shoulder in Hilary Mantel's Wolf Hall. In The Prophets of Eternal Fjord, we enjoy a similar feeling of intimacy with a deeply ambivalent character.
We settle in Sukkertoppen with Morten Falk, a missionary with ambiguous intentions. Simultaneously kind, bright, conscientious, self-serving, lustful and sly, his fervour for converting the natives to Christianity is matched only by his desire to achieve intellectual, psychological, and often sexual liberation among a "heathen" people. Two texts haunt Falk throughout his time in Greenland: the catechism, and The Social Contract. He is perpetually fascinated by the peculiar conjunction in Rousseau's famous phrase, "Man is born free and everywhere he is in chains!" It seems his personal mission is to find out how this can be true.
Yet, we learn, Falk's youthful aspirations lie outside the church. Raised in rural Norway, he moves to Copenhagen to study theology at the insistence of his father, but neglects his studies in order to attend lectures on medicine and clandestine dissections. And this is not the chic Copenhagen of the contemporary popular imagination, but a city more like Zola's Paris, where prostitutes and circus performers inhabit the streets:
The royal city is ninety thousand people squeezed inside a rampart, enclosing them within an area that may be wandered through on foot in less than an hour. A city ravaged over centuries by epidemics, fires and a series of inebriate, insane, inbred and incompetent sovereigns.
At times comedic –Falk unwittingly develops a fascination with a hermaphrodite fortune teller he meets in the pub – at times grisly – a woman is left at sea with a rock tied round her neck to slowly drown – this is a novel of contrasts. At first we are complicit in Falk's misadventures, moved by his self-conscious naivety. But as he gains experience, we become less and less able to condone his decisions. Once in Greenland, there is a strong intimation that he commits offences to which we are no longer privy.
At one point, Falk remembers his childhood as marred by an "unceasing self-control, a studied gravity that eventually became fixed". This describes the tone of the novel, which reads like the great Naturalist fiction of the nineteenth century, and whose formal eloquence implies repressed violence and depravity. The sense of elongated time, of partial or incomplete knowledge, and the chaotic intervention of the "old world" in the "new", recall Eleanor Catton's The Luminaries.
Things fall apart. Whole villages are forced to eat their clothes to avoid starvation; converted colony members defect to native settlements, threatening insurrection; Falk's friend and confidante, Madame Kragstedt, suffers a protracted breakdown. Like Falk's intestines, which gurgle and spasm underneath his cassock, tensions between Danes, Greenlanders, and the ostracised "mixtures" are barely concealed beneath the veneer of commercial social structures imported from Denmark.
Royal bills, arrest warrants, and fresh supplies of aquavit come occasionally by ship from home, where the colonial project evidently retains its shine. But amid the lice and damp and boiling whale-blubber, we realise that the colonisers, misguided and underprepared, are ultimately human sacrifices in a doomed mission that will take down with them the Inuit population.
Eleanore Widger