Tweet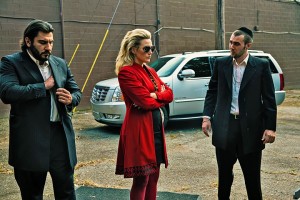 After a four year gap, director of The Road (2009) and Lawless (2012), John Hillcoat, makes his directorial return with the intricate crime thriller Triple 9, a complex, multiple-converging narrative heist film that promises action and tension and delivers it the way in which the genre intended. Brimming full of dirty cops, shady criminals and an ever looming Russian mafia presence, Triple 9 revolves around the follow-up heist that is founded upon the idea of killing a police officer – you guessed it, creating a code 999 call – which will create a diversion allowing the main heist to take place; of course it's never that simple. The barrage of characters and sub-plots see to that. Triple 9 is loaded with a large cast of fairly well-known actors and actresses- most of which have enjoyed recent success through gritty TV series – such as Norman Reedus (The Walking Dead), Aaron Paul (Breaking Bad) and even Woody Harrelson (True Detective). Each character is played well but no one is singled out as an interesting, audience-support worthy character and it becomes very difficult to resonate with any of the band of stereotypical criminal roles.
Casey Affleck's character, however, became the pleasant surprise of the narrative, coming in as the Atlanta police department's newest addition to then be paired with one of the dirty cops in the heist crew. What sets Affleck's character apart isn't simply the fact that he is one of the only wholly good characters, but his relationship with veteran police sergeant, also his uncle (Harrelson). Affleck and Harrelson's on-screen family ties create a bond that the audience can really understand and feel, especially in the intense climax. Harrelson's panic and ardent stress about the wellbeing of his nephew when the "officer down" call resonates from his last known location is my personal favourite scene in the film.
Although I believe Hillcoat could have cut a good twenty-five minutes or so from this film due to their small significance, I did feel some things were missing. Most of the heist crew, bar Anthony Mackie and Chiwetel Ejiofor, had extremely limited background knowledge but seemed as if they were meant to cast a certain on-screen presence that ultimately did not resonate due to the audience's lack of knowledge or empathy for these characters. I found myself wishing more and more that the final heist would fail and the crew be brought to justice even though none seemed particularly evil characters throughout the main body of the narrative. The opening of the film really draws the audience onto the crews' side, jumping straight into the thrill of the initial heist and the fluency of its execution left me thoroughly satisfied, but from there the audience is gradually drawn towards seeking justice against these criminals. This was a fresh take on such a complex intertwining narrative and if this was what Hillcoat sought to evoke in his audiences then job well done.
Though I cannot take away the praise due for the utterly gripping finale of Triple 9, it brought great satisfaction seeing all the planning and sub-plots coming together through terrific shoot-outs and threatening settings. The corrupt aspects and true nature of the characters release themselves in a tense conclusion that really set the film up to end spectacularly. One thing I feel Triple 9 will not be able to execute so fluently is escaping the inevitability that this film will most likely be forgotten about in a month, and more than likely end up in the "recently added" section of Netflix in around four months. But, if you enjoy a crime-thriller with a raw sounding electronic soundtrack and a multitude of dark-lit strip clubs, dive bars and drug dens then I'd highly recommend this as a cinematic experience, otherwise don't expect anything outstanding cinematography wise.
Liam Biddle