Tweet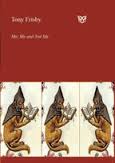 The possessing of multiple selves is a theme regularly explored in both psychology and in literature. For the most part, the issue has been treated formally; however this is not the case in Me, Me and Not Me by Tony Frisby. It is a text that, despite its important subject matter, still manages to retain Frisby's trademark lyricism and wit.
While not autobiographical, Frisby's work does employ personal memories and thoughts, often referencing his conversion from Roman Catholicism to Humanism and also his parents' thoughts on this. However, Frisby does not let his own experiences crowd out his poem, rather he opens it up to the world.  During his homecoming, he discovers that we all have a version of ourselves that comes to light from the place of our youth.
The poem itself flows from comedic to poignant so fluidly it is hardly noticeable. Then, in the midst of a serious point you find mention of the fictional MacFirbisg's clan, a play on his own family name.  Through exaggerated, humorous semi-autobiographical details like these, Frisby captures the reader's attention. Consider particularly those parts of the poem where he touches on something serious yet in a way reminiscent of a lullaby, also tells his reader:
Butfaithhasdealtusaworldfullofstrife
Formyloveandmydearest
Isanothermanswife.
As the first section to rhyme, this is designed to catch us off-guard, gently lulling us into thinking that these are a man's prayers; yet it is in fact something far more scandalous. With no spacing between the words, there is perhaps a suggestion of what follows:  a rush to confess, a speaker not fully ready to own up to the embarrassing situation he is in. By that time however the trap had already been sprung.
Aside from his humour and wit, Frisby's poem also contains very detailed imagery. This is most prevalent when he uses water as a metaphor to show the depths of the mind and its many currents:
of the hitherto unfathomed ocean
of my mind? And as for the waters

on which I've sailed; how did I forget[.]
Here, Frisby admits that his mind, or indeed any mind, cannot be fully understood. However, what he does understand is his own fluctuating relationships with the places he has felt at home.  He compares the many paths he has taken and the various selves he has discovered to a ship sailing across many different seas. The pace and rhythms of this section is slowed and its structure seems to form in an uneven wave-like formation, further enhancing this comparison.
However, with lyricism and in his imagery, Frisby also gives the impression that through his own sea of selves, he desires to find his one true self. Early on in the poem he wishes to write down everything he knows on a "home-made tabula rasa" (or "blank slate") to try to determine who he really is.  But by the end he realises that remnants of what was written remain on the surface despite erasure or writing over. Ultimately this provides him with solace as he understands that even those with whom he grew up who "loathed his existence" played a part in forming the person he is now. Hence he accepts his many selves and is able to find comfort in his present self.
This poem serves as a reminder that everything contributes to our growth and development, that we can improve ourselves and find contentment in at least one of those selves.  Me, Me and Not Me takes us on a light-hearted journey into Frisby's, and also our own, psyche.
Dervla McCormick