My Name is Lucy Barton (Longlisted for the 2016 Man Booker Prize)
Tweet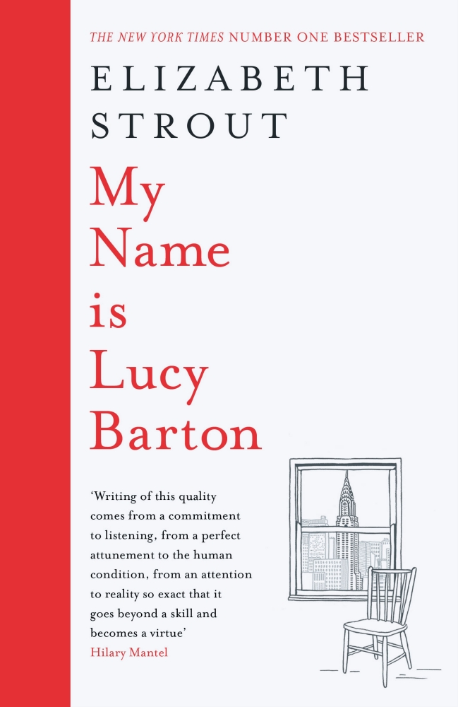 In the heady carelessness of youth, I once announced brashly that "family" was a label for a certain false consciousness: kinship had to be earned from love and personal intimacy, neither made up from routine proximity nor the product of mere biology. In middle age, I see that there are all kinds of families that don't reflect companionable domesticity, that words might fail through no one's fault, that traumas sometimes occur without malicious intent, that silences might speak volumes if you are minded to hear. My Name is Lucy Barton is just such a complex mediation on the nature of families.
The novel's central character, Lucy Barton, is suddenly hospitalised; her estranged mother turns up unexpectedly, staying at her side while she recuperates then leaving equally abruptly after five days. They haven't spoken with any intimacy in decades and actually, in fact, never. Yet the conversations they have in the ward, and the memories they spark, point to a complex backstory alluded to in exchanges but never fully laid out. This much you know: the Bartons were ostracised poor whites living in such unrelentingly bleak and grinding poverty that Lucy had to learn how to act "normal" when she finally moved away to college; that the children suffered neglect, and emotional and physical – and possibly even sexual – abuse; that there were few conventional emotional bonds. Add to this mix, the Bartons were alienated from others and from themselves: the young Lucy felt so alone that for many years she viewed a neighbour's tree as a friend.  How much can you push the meaning of family before what it signifies starts to disintegrate? In the novel's understanding of the ties that bind: pretty far.
Lucy's bone-aching loneliness is one important legacy of childhood. Perpetual wandering outsider, she tries to forge kith and kin with the odd and sometimes undeserving characters she meets. More intriguingly, her past transforms her into a careful observer – dispassionate and puzzled  – of others, and,  later, of her own family. The novel's use of first person voice emphasises solipsism; tonally and thematically, it also conveys a need to make sense  – of others, of a past misremembered or never fully divulged. The latter is, of course, also a form of reading: interpretations of characters and signs where nothing is what they seem. Yet, despite the fact that Lucy's character is a writer, I sense no full-blown postmodern cynicism or easy meta-discursive trickery about this. The desire to get it right, to honour the moment ("this is what I want to think, this is what I think", "this is what I remember") and a painful awareness of failure conveys a melancholia that speaks to the intensity of loss at many levels. What cannot be said, what was not said, gestures towards what cannot be recovered. There is nothing to make the family whole. And yet the desire for kinship, as families knit together or fall apart, is handled with anguished pathos:
Do I understand that hurt my children feel ? I think I do, though they might claim otherwise. But I think I know so well the pain we children clutch to our chests, how it lasts our whole lifetime, with longing so large you can't even weep. We hold tight, we do, with each seizure of the beating heart: This is mine, this is mine, this is mine.
Strout's Barton offers a pared-back simplicity of style and language that in caesuras, ellipses, pauses, divergences (even, perhaps, false memories), speaks to the hunger and darkness within; the bleakness and melancholy of the subject matter is offset by the writing's lyrical cadences. And at the novel's end, despite all, there are still the ties that bind, a recognition that life is not death, that beauty lives alongside darkness, that "all life amazes". My Name is Lucy Barton is a small, perfectly formed gem; I was really disappointed not to find it on the Baileys Prize shortlist.
Gail Low