The Secret Chord (Longlisted for the 2016 Baileys Prize)
Tweet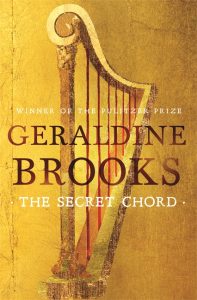 The Secret Chord in the title of Geraldine Brooks's latest publication about the life of David is the same Secret Chord celebrated in songwriter Leonard Cohen's very successful song, Hallelujah, the first lines of which read:
"I heard there was a Secret Chord
That David played and it pleased the Lord"
In tackling the telling of his life, literally a story of Biblical proportions in terms of its importance and its fame, Brooks demonstrates her willingness and enthusiasm for this challenge which entails serious research and a vivid imagination. In her Pulitzer Prize winning previous book, March, where she took the character of the absent father in Louisa M Alcott's Little Women and wove a story of the American Civil War, Brooks showed her skill in using historical facts and wedding to them a plausible and compelling fiction. The Secret Chord repeats this methodology but in a grander way; a way much more likely to bring her work under a metaphorical microscope given that she has taken a Bible story about a legendary man (for this is the tale of David of David and Goliath fame after all) and fictionalised many strands to create her story. She manages this task admirably well.
Geraldine Brooks trained as a reporter, initially in her birth country of Australia where she worked for the Sydney Morning Herald before moving to the United States where she worked on international stories for the Wall Street Journal, and this practised ability to relate apparent facts can be seen at play in The Secret Chord. Brooks cleverly uses the character of Natan, a man who has visions, to take the milestones of David's chequered life as related in Bible passages, and to create a compelling story which fills in the gaps of historical knowledge. Natan promises that David, an outlaw, will gain the throne, lead an empire, and create a bloodline that will be venerated through generations. And so it becomes.
David is an imperious harpist, and a song and psalm writer capable of creating music so sublime that only he can play it: music which "pleases the Lord", and which "baffles" King Saul in its unparalleled beauty. Brooks makes David into a heroic, just and charismatic figure, yet she uses his interaction with his three wives, Mikal, Avigail and Batsheva, with his son, Solomon, and with the afore-mentioned Natan, to show the other side of David – a traitor, a murderous calculating despot and a ruthless and feared oppressor.
Brooks's writing demands admiration; where David is showing his ruthless side, in battle or in killing women and children, she uses clear and exact language as befits the nature of the situations, and when she describes the beauty of the music, and the marvels of his city, she writes with a captivatingly lyrical, almost dreamy, style. The story she has created, bringing together the most famed episodes in the life of David while contextualising them in a long and fascinatingly lived life, combines the strengths of a written history and the fiction of an accomplished writer in a way that is quite seamless. In showing that David, far from being the anointed one of the Lord, is simultaneously great and flawed, loving and vile, Brooks creates a Lear-like analogy, but David's story is no Shakespearean tragedy and he dies a very old man in peaceful circumstances.
The Secret Chord will disappoint none of Geraldine Brooks's fans, and may well win her many more. The book is powerful, ambitious and very engaging. It fully achieves what the author set out to do; the marrying of a very well-known text from the Bible to a piece of cleverly written fiction is impressive and deserves to be read and recommended.
Eddie Small