The Glorious Heresies (Shortlisted for the 2016 Baileys Prize)
Tweet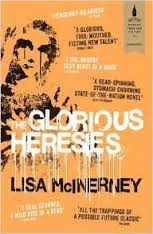 The cityscape of Cork, in which Lisa McInerney's The Glorious Heresies finds itself unfolding, is a paradoxical M.C. Escheresque backdrop. This is the debut of a seasoned and celebrated blogger, the 'sweary-lady' (as McInerney titles herself), and while her first expedition into extended prose fiction comes with a few teething problems, the novel finds itself most at home when it mirrors the shifting nature of its setting.
The beginning of any novel can often be a tricky area in which to immerse yourself. McInerney jumps from perspective to perspective in the opening chapters, introducing you to a fairly wide range of characters as she does so. The list that appears is a colourful one – the key players vary richly in their histories, their situations and, often, in their likeability: Tony, an alcoholic who's called upon for several odd-jobs by the gang; Jimmy, the boss of said gang who inhabits the criminal underworld as skilfully, "as a bright eyed captain on a sleeping sea."; Ryan and Georgie, younger members of the cast, and the ultimate casualties of the whole rotten enterprise. As these characters begin to appear, their relation to each other might seem tenuous or non-existent. You only have to look at McInerney's description of the city space, however, to anticipate exactly how their stories are about to fit together: "The thing with Cork being built on a slope was the further out you got from the hub, the better the views were."
This idea of 'zooming out' knits the different threads of each characters' narratives neatly together. By the end of the novel's first part, a myriad of motivations can be seen circling closer and closer to each other. As they collide, the tale twists in upon itself in darkly comical ways – resulting in an almost cinematic effect. Indeed, McInerney's interplay between the everyday suburban world, and the criminal element that runs through its veins, brought to mind the similarly farcical, violent and deeply Irish world of Martin McDonagh's In Bruges, or to a lesser extent, the hair-trigger urban interactions of Tarantino.
However, this swapping of viewpoint provides a few mixed results. On one hand, it's fascinating to see a character like Tony from the perspective of some of the other protagonists: to his son, he's an alcoholic, abusive monster; to his friend, he's a bit of an idiot who's been dealt a bad hand in life. McInerney also deftly weaves the Cork dialect into her descriptions, which allows her to really inhabit the setting as she connects up the characters with it. As interesting as this mixture of colloquial free-indirect-speech and three dimensional character study is, McInerney might have given herself a bit too much to work with. The third person narrative often lapses into oblique passages that clash with the otherwise earthy, rougher tone. This style, while fitting for certain characters, hardly ever changes to signify them, and can't keep up with the constant perspective switches. While someone like the musically talented, introspective Ryan may indeed be more prone to wordy observations for instance, it can be jarring in chapters about other, very differently wired characters. I don't really buy the following passage, when it appears in a chapter that explores the otherwise gritty, down-to-earth atmosphere of Tony's story:
An effervescent liar from the phone company had sold Tony a broadband subscription, which  had the effect of lobotomising his three teenagers and giving him the cold comfort of meditative silence.
Tonal issues aside, for the most part juxtaposing high and low, commonplace and criminal, makes The Glorious Heresies an entertaining read. McInerney's murky debut is a promising look at what lies ahead for an exciting new author.
Luke Macdonald