Tweet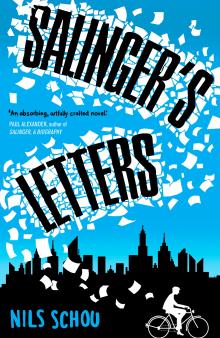 The author, Nils Schou, a television writer and novelist from Copenhagan, engaged in correspondence with J.D. Salinger, and this was the inspiration for his distinctly Danish feeling novel Salinger's Letters.
The book follows Dan Moller, a writer and trained dentist. Moller has suffered from depression since childhood, a condition that has shaped and defined his life and his character from his early years, his struggle through young adulthood to his now more settled personal and professional life. By closely monitoring and then documenting his thoughts, Moller finds that he can treat himself more effectively than the many and varied therapies he has undertaken. During one particular episode of experimentation with a fellow depressive, he trips on LSD and his depression takes on physical form; called "Amanda"  ("Hey I know who you are, You're depression, you're my depression"), she comes to dominate the storyline later in the book in a number of ways. For me, this anthropomorphising of his mental state is a little contrived, a little over the top, and yet I'm not sure that the author could have done it differently.
The story starts with the negotiation of the sale of Salinger's Letters. A lawyer approaches Moller and offers a large sum of money for them from a private buyer. His clever wife, the daughter of one of Moller's professors (himself a depressive and the source of much of Moller's understanding about the illness), and Moller realise that the buyer is, in fact, none other than Salinger himself and so they travel to America to hand over the letters in person. With some double bluffing and a Salinger look-alike involved, the couple are double crossed. But Dan's wife has anticipated the deceit and created a contingency plan so they get what they want. Dan meets Salinger and the author is able to give Dan the long-searched for and hard-fought peace he so desires in a poignant encounter: "I turned around and looked into the face of J.D. Salinger… I felt the deepest devotion towards him… from the first moment it was as if we were confidential old friends who had happily anticipated finally meeting."
Dan's correspondence with Salinger is based on a mutual interest in Soren Kierkegaard, a Danish philosopher who is widely regarded as the founding father of Existential Philosophy and the quest to discover a cure for the particular form of depression with which Dan suffers.  Through Amanda, he is brought into contact with other depressives and people with psychological difficulties. Some are close to him personally, people whom he never realised had suffered from mental illness, and some are long-dead celebrities. This section of the book takes a surreal turn with Dan being introduced by Amanda to the likes of Andy Warhol, Marilyn Monroe and Elvis Presley. At this point, the book seems to lose its already somewhat tenuous link to reality, and I found myself switching off and skim reading.
Salinger's Letters is intricate and complex. There are multiple characters with interweaving relationships, all of which are carefully choreographed into a complicated tapestry; the number and diversity of people involved are, on occasion, hard to keep track of.  With the author flitting back and forth between different stages in Dan's life I found it hard to make certain the story's timeline. A more tangled web would be hard to weave and yet, in many ways, this is the making of the novel. Mental illness is such a complicated and diverse area with so many shades, levels and interlinking strands; I found myself drawing a comparison between the many and varied threads running through the story and the neural networks and pathways of the brain. For me, the sensationalism and obvious resolution in the latter part of the book detracted from this otherwise carefully crafted novel.
Libby Hawksley