Tweet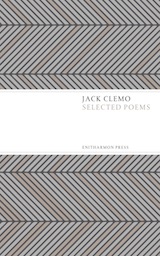 This collection of Cornish poet Jack Clemo's work consolidates poetry from all his published volumes in the first major poetry publication since his death over twenty years ago. These Selected Poems, edited by Luke Thompson, are designed to reinstate Clemo as a celebrated national poet. With this resurgence of interest in Clemo, it is important to recognise the unique quality of his poetry and its specific influences.
The collection is comprised of 52 poems, arranged in roughly chronological order. Thompson's selection therefore documents the poet's evolution: his early verse addresses the rural landscape of his homeland that has changed through the history of clay-work industrialization. The focus then shifts to themes of love and sex, coinciding with the poet's marriage to Ruth Peaty in 1968, and finally to Italian landscapes and culture of his more recent work.
The collection's introduction by the former Archbishop of Canterbury Dr. Rowan Williams identifies a "fundamental theological commitment" as a constant in Clemo's work, which is also unapologetically evangelical. The writer grew up in a Methodist household, a factor which shaped his own personal theology and would later inform his poetry. Religious conviction features strongly in "The Clay-tip Worker" through the message of a reformed Christianity, seen in his discussion of "Redemptive truth" and "triumph for our Lord" and in "Heretic in Florence", his question: "How far can God's grace move the beholder". Full rhymes and compact form increase conviction in the poet's voice; consider his depiction of unfaltering faith in "A Calvinist in Love":
We need no vague and dreamy fancies:
Care not to sight
The Infinite
In transient necromancies.
Yet Clemo does not simply preach; his Christian theology facilitates other important themes. One key, underpinning parallel is the interaction between God and nature, a sensibility which was present from a young age. His pride in the rugged landscape he calls home is at the heart of his writing, as seen in "Wart and Pearl": "a land's face never sleek, / Never wholesome, but powerful, looked back at me". It is in this wild environment that the poet is confronted by God, as shown in "Christ in the Clay-pit":
Why should I find him here
And not in a church, nor yet
Where Nature heaves a breast like Olivet
Against the stars? I peer
Upon his footsteps in this quarried mud;
I see His blood
In rusty stains on pit-props, waggon-frames.
In Clemo, nature and spirituality are intrinsically linked; he presents natural elements  as frequent reminders of Christ's sacrifice. His poetry also explores nature's demise. In "The Clay-Tip Worker", Clemo presents the worker's crusade against the "springtime loveliness idolaters adore" in the latter's destruction of plant life to fulfil his purpose as a clay-worker. The poem criticises the "idolatrous" romanticising of the countryside, and demonstrates an alternative means of glorifying God in nature through the clay-worker's labour, the "gritty symbol of His new designs."
Clemo faced great physical adversity in his lifetime as he became both blind and deaf due to a debilitating health condition. The poet's success should not be tied solely to his physical misfortune however, as it all too often is. He is more than "a pathetic wreck of a man deserving only pity", so frankly put by Charles Causley, who takes a fiercely defensive stance on the poet in the introduction to The Map of Clay collection (1961). Jack Clemo is deserving of literary recognition primarily because of his unique poetic voice. This is a voice which challenges our perceptions of nature and industry, and assigns new meaning to Christian doctrine, breaking the mould of the orthodox romantic poets who came before him. This is a voice which celebrates Christ in both clay and words.
Carrie Elder