Tweet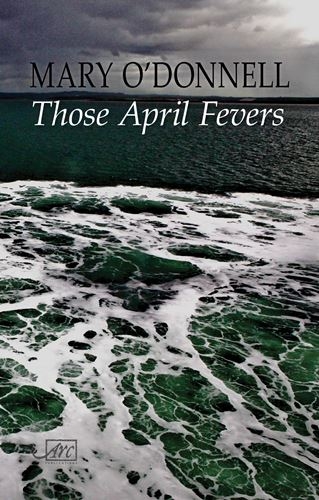 Those April Fevers is the perfect fit for anyone looking for a collection of diverse poems that is far from conventional poetry associated with continuous meter and schematic rhymes.
Mary O'Donnell produces exquisite, elegant and colourful poems, open to any field or subject. This expansiveness is also represented in her approach to genres: not only does she write widely published poetry, but she is also a proven talent in fiction, and has translated Galician women's poetry. Additionally, she works as a part-time teacher and is a contributor to Ireland's national broadcasting station, RTE. Her new collection of poetry Those April Fevers is as diverse and extensive in subject as her curriculum vitae, and offers an impressive variety.
O'Donnell is unafraid to challenge anything: from tweets "about Byzantium" in "Uncertainties 2011", to fairy tales which are wont to make you "hold gaze" at "Rapunzel in her tower" in "Beyond Myths". Equally, the reader will be entertained by the humour in the scenario of rising at "Five A.M", waiting for rooms to take shape. As O'Donnell switches from political to nostalgic, horrific, mystical or humorous approaches, she merges love, horror, wonder and much more. In matching the vocabulary to its context, O'Donnell also creates a historical overview of the changes in language and how these impact our world. In "Old Croghan Man Knocking At The Window", we hear the "failed king, wedded to a harsh goddess of land and war". However, in "On Fitzwilliam, After A Budget" "car radios announce the worst". Different places and different registers are played with, allowing them to interact and challenge each other.
Not only does she offer a great variety of themes, combining myths with real life, she also adjusts language, cadence and stanzaic structure in each poem. Consider "Beyond myths": O'Donnell incorporates myths into two-line stanzas, creating a rhythmic song reminiscent of a medieval song singing of a tale of love. "Five A.M.", by contrast, addresses a modern life and challenges the reader to question his/her daily routine inflected by the social engagements of "this precarious life". In moving from room to room in each stanza, listing morning procedures, the author makes the poem an instruction manual for a daily routine.
This omnipresence of contemporary society and aspects of the modern world runs through the entire collection; O'Donnell harnesses these concerns, engaging readers through different angles. Reading the collection, it becomes clear why she has chosen to begin with "Baltic Amber". The poem contains a slight notion of criticism in its observation that our society has changed in its way of looking at nature, "Nobody understands / what I mean when I mention amber, their minds / engrossed by hazel branches hung / with painted eggs, catkins; or hyacinths in bowls". Plants are now seen as a decorative, seasonal or celebratory medium but their real purpose seems lost, a purpose the poet values as  "translucent gold".
This colourful collection contains great diversity, as is reflected in the title and cover. In April, the weather changes very rapidly from sunshine to rain or even snow; this climatic capacity for rapid transformation is highlighted by the word "Fever" which imparts a sense of agitation to the title: Those April Fevers. Worked in dark colours, Mark Granier's cover illustration impresses with its eerie and unpleasant undertone; it depicts the sea's transition from calm to churned up wavy, white foam. With the book soft cover's silkiness, this Arc publication thus reveals a contradictory impression. For all that, I believe O'Donnell's  intention was rather to show the facets of nature, just as she illustrates the facets of life and its realms throughout her poems.
Eileen Klein