Tweet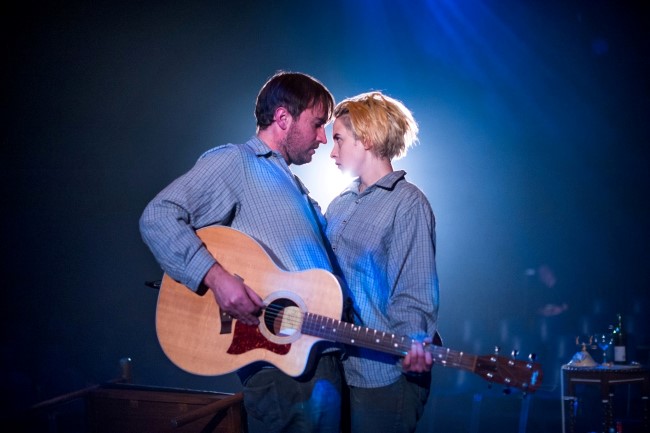 "Sit anywhere you want, but try stick to the front to keep the intimate feel," were the words said to me as I collected my tickets. I thought nothing too much of it – not expecting anything out of the ordinary. Instead, in true Rep fashion, I was greeted by an absolutely beautiful stage. A revolving plinth, with minimalistic design – nothing more than a table, chairs, and a dimly lit lamp. And oh, a distraught looking man sitting alone on the in-the-round slowly spinning stage. I was dropped right in, even when the character was simply pre-set and staring. Intimate indeed.
Love Song  follows the love lives of a small American family. We meet Joan (Emily Winter), a career-driven business woman and her husband, Harry (Barrie Hunter); they are constantly at each other's throats, disagreeing about everything; just "having a conversation," as Harry puts it. There's also Beane (Ewan Donald), Joan's depressed, introverted brother, who falls for Molly (Sarah Swire), a woman whom he finds robbing his home of all his worldly possessions, which could all be neatly tucked into a brown paper bag. Molly finds herself drawn to Beane and soon the two have what everyone longs for: love. Beane then learns something he has never been able to do – live. His dark, depressing world suddenly bursts with colour, which spreads to Joan and Harry's marriage, giving them a new glimmer of hope and re-found love.
The acting in this production deserves the utmost praise. The actors were a family, their interactions showing such an impressive array of emotions that it's obvious why the Rep is as renowned as it is. Not once did an accent slip up, a mighty feat considering the range of emotions these characters go through. Hunter and Winter proved to be a magnificent pairing, bringing the room to tears both with laughter, and, later, with the serious raw drama underneath the comedy. As always, Emily Winter, whom I have watched perform in the Rep for many years, impressed; her performance invariably sticks with you and this was no exception. Barrie Hunter's comedic timing is any actor's dream, and it shone through the beautifully written dialogue that at times grows quite dark. The laughs were never lost. Ewan Donald, however, stole the show. His ability to make real the changes in his life from dark to bright showcased the talent that he is, but his chemistry with Sarah Swire was so good that you could see how such transitions were possible. Ewan Sommers, as a waiter with only one scene, made the small role feel big.
My only reservation with the show lies in the fact that some of the more subtle movements and facial expressions were lost at certain moments because of it being staged in-the-round. But, this is to be expected with such staging and might be deemed nitpicking.
Writer John Kolvenbach has written a true testimony to love: that no matter what you believe love is, how fantastical, or long or new the love has been, love is love. Director Andrew Panton has taken this message and crafted it into a piece of art. From the staging to the sensitive performances that show personal and family life, Paton captured intimacy beautifully and in a way I could have never imagined. But most importantly, both Paton and Kolvenbach reminded you about one key thing about life- don't forget to live.
Ewan Gray