DJCAD Degree Show 2016: Fine Art (Sculpture, Matthew Building)
Tweet
Tucked away in a corner of the Matthew building, the Final Year sculpture was worth the long walk from the main entrance. Behind unassuming doors, imposing pieces lie silently waiting to be discovered. All of the above pieces of work share common themes: they are all monochrome; they all make us think about life and death; and they all have something to say about our society, and about how we treat nature.
The first room we enter contains the work of four artists who complement each other perfectly. Becky Middleton's collection Tofu Sweats includes Bringing Home the Beancurd – a striking set of three large square photographs on a black background. Each shows a pretty vintage ch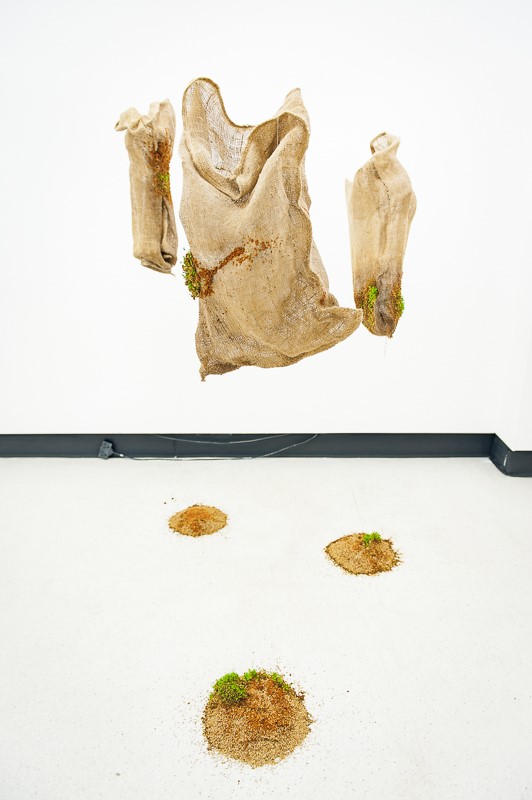 ina tea plate, each with a square of tofu on it. The title, Tofu Sweats, refers to two ideas simultaneously: the body sweating in positive reaction to eating nutritious, vegetarian food and that of watering or nurturing plants. It includes a powerful piece called Grain Consuming Animal Units – three sacks hanging from the ceiling cinched slightly to look like female forms or carcasses hanging from a butcher's hook. Each 'unit' has a little heap of earth beneath it with grass sprouting out in places. This theme of nurturing and giving back to nature carries on in Organic Bodies, a set of nine pen and ink drawings of female figures or fertility goddesses with plants sprouting out from where their head and limbs should be. Themes of female, bodily exploitation in today's male-dominated society are suggested here, alongside the duty of care we have towards nature and all living beings.
Cameron Brady's blunt collection of satirical cartoons moves us from the feminine to the masculine. Brady uses thick black contour lines to mock and deride contemporary political figures in a series of naive caricatures. In the same vein, Claire Connor's cardboard protest banners leave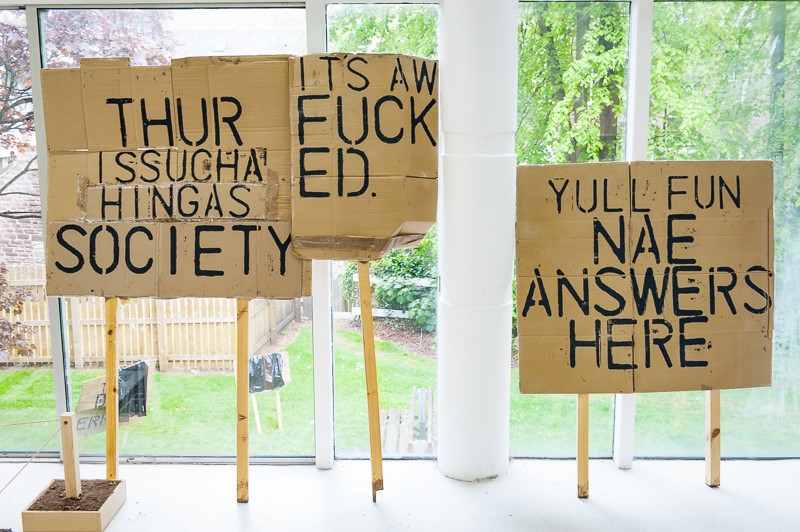 us in no doubt about her political message; their language doesn't pull any punches. Some messages are painted directly on to the wall alongside a shapeless black monster with many gaping mouths and staring eyes. Is that monster us and the society we've created? This artist is angry and wants us to share in her anger. Don't worry Claire, we are with you!
Lili Chasioti brings us back down to earth – literally. She draws her calming lines not with ink, but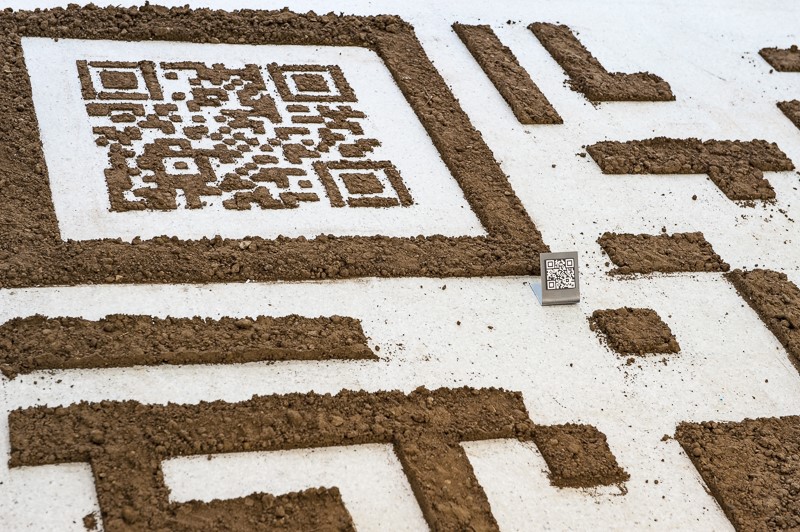 with earth, grass and pebbles in her Garden of Evolution, an interactive installation which merges nature with technology. Viewers enter a conversation by scanning QR codes created in earth on the floor that act as connectors between our physical and digital worlds. This piece is installed in Botanic Gardens, Dundee, and an accompanying video shows the piece in situ.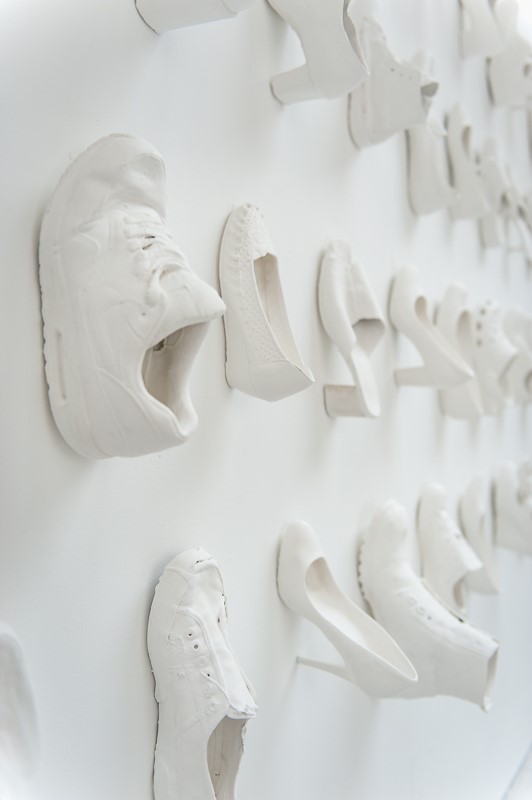 Katie Shipp's haunting piece consists of four long rows of shoes encased in white emulsion giving the appearance of walking up the wall. These are the ghost shoes of 25 missing people. Through this powerful work Katie draws our attention to the fact that over two and a half thousand people went missing in Fife last year – a shocking and staggering statistic.
Angela Alexander-Lloyd's autobiographical punctum is about mortality, loss and grief. An empty black chair at the entrance to the room gives us a hint of what's inside. Using video, sound, performance and sculpture, we are immersed in a black hole, veiled in darkness, with the sound of relentless rain battering down around us. We feel her pain. The work is disconcerting and forbidding.
These strong Final Year sculptural pieces by six emerging and talented fine artists leave us with plenty to think about. They ask us to ponder on the society we live in and explore the negative effects our actions are having on our environment. Above all, they urge us to take a long, hard look at ourselves.
Joanne Morley-Hill