DJCAD Degree Show 2016: Fine Art (Printmaking)
Tweet
The quality of printmaking in this year's Degree Show is superb. Students' work showcase a multitude of approaches to this art form, with many of the exhibitions containing printed elements in some form such as posters, zines and artists' books. There are works which incorporate printmaking into sculptural assemblages. In Anna Wallace Reid's installation on the 6th floor, we see screenprinted photographic works of young people from The Hot Chocolate Trust in Dundee's city centre transformed into wood and textile constructions. Walking into the room, monochrome portraits printed on fabric lie discarded on the floor, leading to a sculptural installation incorporating partially erased images of chairs, mugs and faces. These form tentative dialogues with each other, capturing an atmosphere of momentary refuge.
In the General Course studios, Joshua Wilson's work fuses printmaking, sculpture and performance in his quartet of dramatic large scale screenprints on birch plywood. These prints are a documentation of a performance wherein his body was tightly wrapped in a skin of chain-like fabric. We have a lingering sense of the body's urge to break free from its restraints. Also on this floor, inspired by Glaswegian architecture, Emma Young's screenprints explore the deterioration of the city's shipbuilding heritage. Young draws attention to the difficulty of the workers' family lives with her lampshade forms, inviting us to consider the human cost of these civic decisions.
In his installation Repeat Until Meaningful, Alexander A Allan explores the industrial aspect of printmaking, by creating a brand, Odin's Beard Publications, and distributing material in a workshop setting. Laser cut woodblocks of intricate type are displayed alongside their printed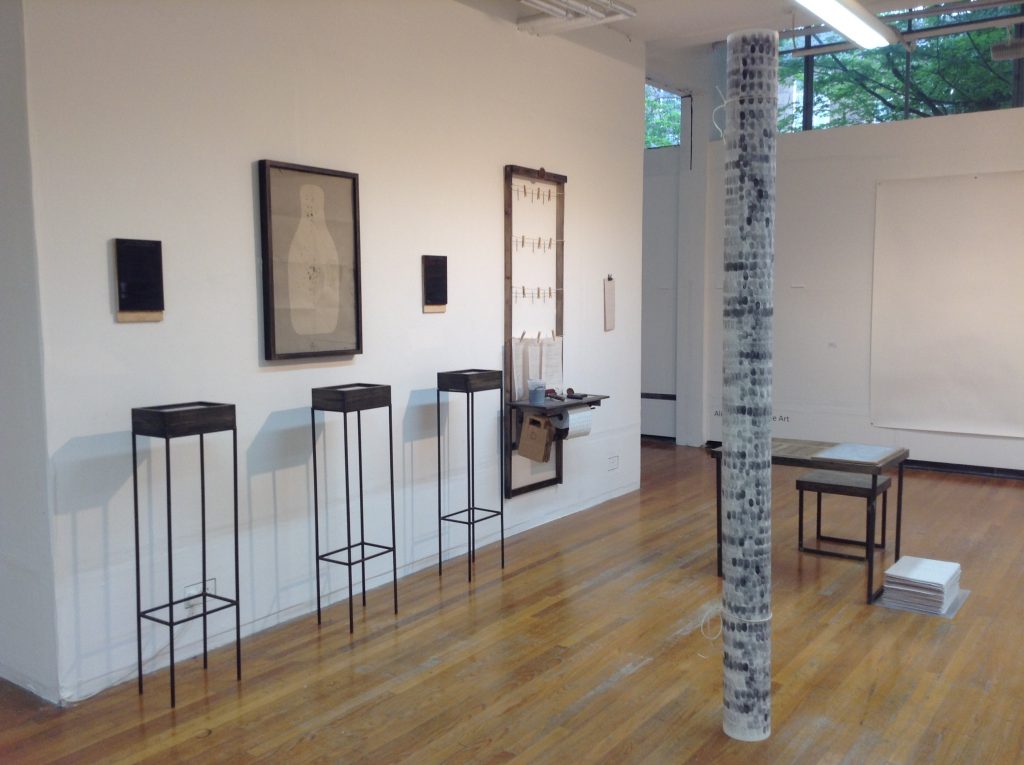 manifestations, with the tools of the printer's trade laid out on a well crafted wall mounted workbench. A paper column of inky thumbprints rises from the studio floor in homage to the tactile quality of printmaking, and to the originality that each hand-printed impression brings.
Jasmine Summerton's documentation of nine journeys in the Cairngorm National Park is a beautiful exploration of simple acts of walking and observing. The sites where she pitched her silver, conical, portable observatory have been documented in a series of nine black and white photographic lithographic prints with shimmering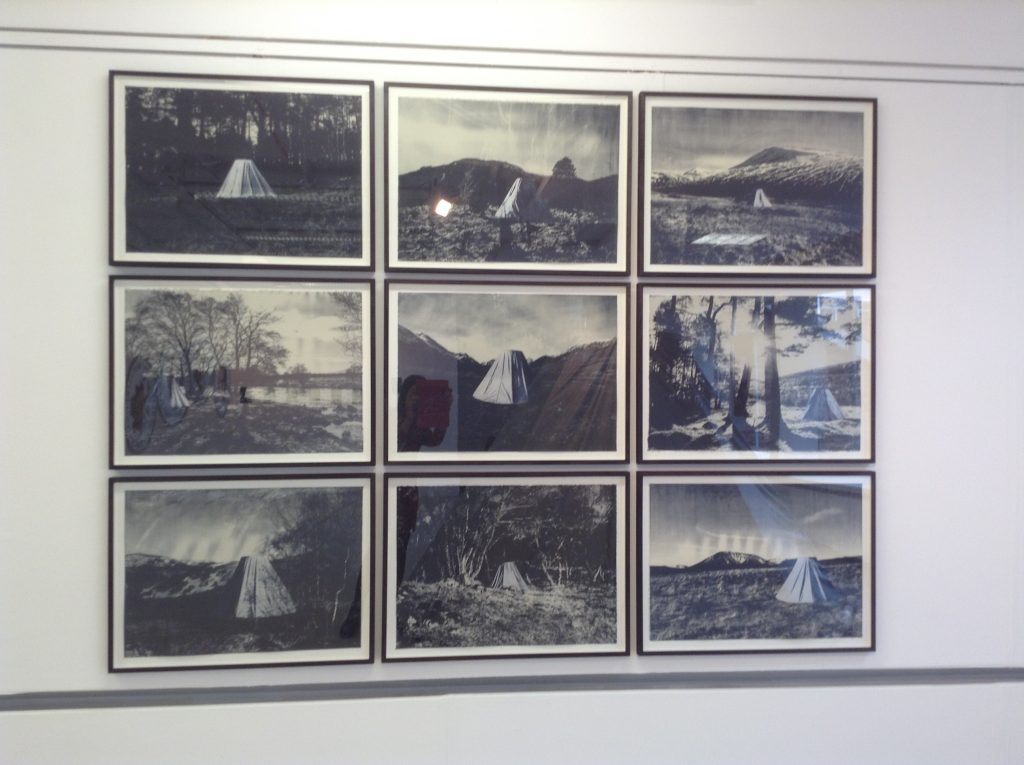 metallic highlights. An editioned collection of handmade artists' books and a set of nine photographic prints showcases more of Summerton's printmaking skills, contributing to a well planned and fascinating exhibit.
At the end of the Second Year Fine Art corridor, the rawness and immediacy of print is explored in the work of Claire Connor, who uses hand printed woodblocks to create stark, graphic posters of black and white type and cardboard protest signs. A cacophony of voices in Scottish vernacular shout out from the walls, confronting the viewer with issues of politics, gender and everyday life in the twenty-first century. Direct confrontation with the viewer also takes precedence in Naya Magaliou's work. Hand-cut foam letters mounted on wooden boards act as large scale stamps; these completely cover the walls and floor of her installation. Words are used to portray a stream of consciousness; some texts are personal, some overheard and others lifted from a plethora of sources.
Further on is a series of brightly coloured, hand-cut stencil screen prints by Kristian Thomassen that explore ideas from Zen literature. The font is at times barely legible, creating mysterious links to the pictorial elements in the prints, with images and text seeming to tip over in their frames in order to further obscure the reading of the prints. Such elements require the viewer to look beyond the apparent simplicity of these works in order to further contemplate the ideas behind the text.
The artists of this year's Degree Show demonstrate the versatility and dynamism of print that showcases DJCAD's strong printmaking tradition.
Anna Olafsson